Logical Family Lib/E: A Memoir (Compact Disc)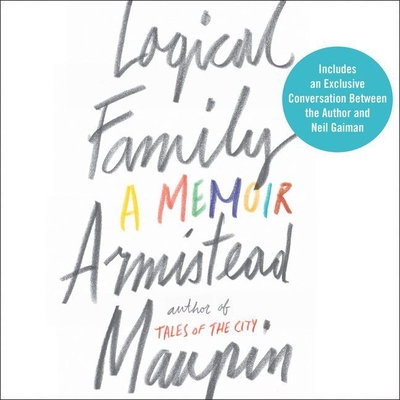 $59.99
This item is backordered. Please contact us for an estimated availability date.
October 2017 Indie Next List
---
"Armistead Maupin's new memoir, Logical Family, tells the story of his life with the same humor and grace that have made his Tales of the City series so beloved. Fans will delight in reading about the inspirations for Barbary Lane and its inhabitants, but readers who are brand new to Maupin will also fall in love. His story is that of a young boy growing up in the old South, in the Navy, in Vietnam, and in the closet - at least until he found his home in 1970s San Francisco. Even if he weren't already an LGBT icon and literary hero, this memoir would be one to champion."
— Emilie Sommer, East City Bookshop, Washington, DC
Description
---
A book for any of us, gay or straight, who have had to find our family. Maupin is one of America's finest storytellers, and the story of his life is a story as fascinating, as delightful and as compulsive as any of the tales he has made up for us.--Neil Gaiman
I fell in love with Maupin's effervescent Tales of the City decades ago, and his genius turn at memoir is no less compelling. Logical Family is a must read.--Mary Karr
In this long-awaited memoir, the beloved author of the bestselling Tales of the City series chronicles his odyssey from the old South to freewheeling San Francisco, and his evolution from curious youth to ground-breaking writer and gay rights pioneer. Also included is an exclusive conversation between Maupin and bestselling author Neil Gaiman.
Armistead Maupin was born in the mid-twentieth century and raised in the heart of conservative North Carolina, Armistead Maupin lost his virginity to another man on the very spot where the first shots of the Civil War were fired. Realizing that the South was too small for him, this son of a traditional lawyer packed his earthly belongings into his Opel GT (including a beloved portrait of a Confederate ancestor), and took to the road in search of adventure. It was a journey that would lead him from a homoerotic Navy initiation ceremony in the jungles of Vietnam to that strangest of strange lands: San Francisco in the early 1970s.
Reflecting on the profound impact those closest to him have had on his life, Maupin shares his candid search for his logical family, the people he could call his own. Sooner or later, we have to venture beyond our biological family to find our logical one, the one that actually makes sense for us, he writes. We have to, if we are to live without squandering our lives. From his loving relationship with his palm-reading Grannie who insisted Maupin was the reincarnation of her artistic bachelor cousin, Curtis, to an awkward conversation about girls with President Richard Nixon in the Oval Office, Maupin tells of the extraordinary individuals and situations that shaped him into one of the most influential writers of the last century.
Maupin recalls his losses and life-changing experiences with humor and unflinching honesty, and brings to life flesh-and-blood characters as endearing and unforgettable as the vivid, fraught men and women who populate his enchanting novels. What emerges is an illuminating portrait of the man who depicted the liberation and evolution of America's queer community over the last four decades with honesty and compassion--and inspired millions to claim their own lives.