Untangled: Walking the Eightfold Path to Clarity, Courage, and Compassion (Hardcover)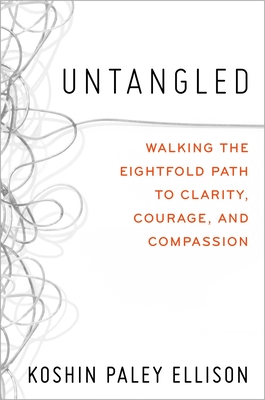 List Price: $28.00
Our Price: $23.80
(Save: $4.20 15%)
Warehouse, In Stock | Usually Ships in 1-5 Days | New
Description
---
Though we are seemingly more connected to our world than ever before, many of us cannot ignore a nagging sense of loneliness and isolation. To keep this anxiety and discontentment at bay, we can search for connection through unhealthy distractions, believing these will bring us true nourishment. And yet, loneliness is on the rise, exacting detrimental effects on our mental, emotional, physical, and spiritual wellbeing. Even those of us who have succeeded in the ways that society applauds, often feel unanchored, disengaged, and purposeless. If true pleasure is what we desire, how do we look past the surface, to discover a life filled with meaningful connection and genuine relationships?

Untangled is a welcoming guidebook to finding expansive ease and true joy through what is traditionally called the eightfold path, one of Buddhism's foundational teachings. Psychotherapist and Zen teacher Koshin Paley Ellison compassionately walks readers down these eight roads, leading them on a path of transformation and to experience true joy. Combining teachings from both Eastern and Western wisdom traditions, Paley Ellison equips readers with the tools needed to untangle our tangles and make profound change, inside and out. Infused with Paley Ellison's own anecdotes of his life as a young gay kid facing abuse and discrimination, this approachable guide will help you transform your ever day interactions, your most intimate relationships and offers a path for social healing. It is an ancient cure that's up to the challenge of healing the modern dysfunction of our times.
About the Author
---
Dr. Koshin Paley Ellison, MFA, LMSW, DMIN, has devoted his life to the study and application of psychotherapy and Buddhism in service of addressing cultural ills. An author, Zen teacher, Jungian psychotherapist, and certified chaplaincy educator, he and his husband Robert Chodo Campbell founded the New York Zen Center for Contemplative Care.
Praise For…
---
"Buddhist monk Paley Ellison (Wholehearted) delivers an outstanding guide to the essentials of Buddhist practice."

"Paley Ellison's candid anecdotes show the principles in action and his passion comes through on every page. Additionally, his theology manages to be accessible without oversimplifying. This walks the walk."—Publishers Weekly

"Reading Untangled, I felt as if Koshin Paley Ellison was sitting right next to me: telling his stories, sharing his friendliness, offering his down to earth wisdom. This is an indispensable new guidebook to Buddhism's eightfold path."—Susan Cain, #1 New York Times bestselling author of BITTERSWEET and QUIET

"Koshin Paley Ellison engages us from a life of hard-earned wisdom, showing us a way out of our countless tangles to a path to freedom."—Daniel Goleman, author, Emotional Intelligence

"Koshin is a visionary spiritual leader who brings together the medicine for fear—bridging the divide between our values and our actions. He gives us the soulful prescription and the companioning needed for integration of personal awareness, social healing and global connectedness."—Van Jones, Founder of Dream Corps

"Leave it to a monk to write an unusually thoughtful book about how to stop being controlled by your emotions—and start learning to observe, embrace, and harness them."—Adam Grant, #1 New York Times bestselling author of THINK AGAIN and host of the TED podcast WorkLife

"Oh, what a tangled web we weave when we believe our own thoughts! Koshin Paley Ellison shares his wisdom and passion in Untangled. Written with truth, humor, sometimes revealing pain, always manifesting compassion, Untangled is a gem." —Sharon Salzberg, author of Lovingkindness and Real Change

"Koshin is one of my most important teachers and friends. He's also very funny and courageously candid about his own personal history and personality quirks. If you're looking for somebody to teach you how to do life better, Koshin is an ace."—Dan Harris, author, 10% Happier

"With humor, compassion and the knowingness of decades of practice, Koshin Paley Ellison continues to be one of our wisest guides. Untangled is an honest, accessible, funny, loving, slapping-you-around-a-bit roadmap to help us face that which we want to turn from, and hold that which feels impossible…together."—Priya Parker, author, The Art of Gathering