Flight 149: A Hostage Crisis, a Secret Special Forces Unit, and the Origins of the Gulf War (Hardcover)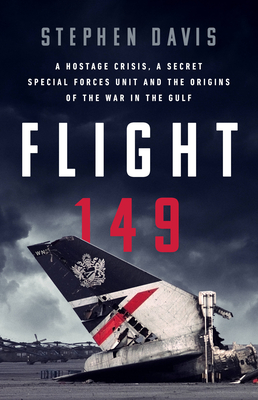 List Price: $28.00
Our Price: $23.80
(Save: $4.20 15%)
Description
---
A gripping, real-life drama that reveals the true story of a plane full of unsuspecting passengers who landed in a war zone and were delivered into the hands of a murderous dictator.
 
On August 1, 1990, Flight 149 was scheduled for its routine London-to-Kuala Lumpur run. But when the plane, carrying 385 passengers and crew, landed at a Kuwait airport to refuel that day, it was surrounded by Iraqi tanks and about to be bombed by fighter jets.
 
The passengers and crew were kept as hostages and suffered brutal treatment including violent attacks, sexual assaults, and mock executions. When the survivors were eventually released, they were never told why their plane landed in the middle of an invasion, or who a mysterious team of late arrivals on the flight might have been. Their story was overshadowed by the ensuing Gulf War. Until now.
 
In Flight 149, Stephen Davis draws on unique witness accounts from the hostages, and uncovers the lies and coverups orchestrated by the British secret service and CIA. This story reveals an astonishing misuse of intelligence that changed the course of history and forever altered the relationship between the West and the Middle East.
About the Author
---
Stephen Davis is a TV commentator, documentary film maker, newspaper editor, foreign editor, US correspondent, war correspondent, award-winning TV news and current affairs producer.  has been on the front lines of journalism for three decades as a leading journalism educator, trying to uphold the ideals of the fourth estate and to inspire others to do the same.
Davis has worked for the Sunday Times in both London and Los Angeles and was news editor and foreign editor of The Independent on Sunday. He has been a producer for 60 Minutes and 20/20, a documentary film maker for the BBC and Discovery, and has taught journalism to thousands of students from all over the world. He has won multiple awards for his investigative reporting, including a silver medal at the New York film and television awards, and has designed and run journalism degree programs in London, Sydney and Melbourne.
Now an author and educator, he teaches a course on fake news, disinformation, and misinformation at the prestigious University of Otago in his native New Zealand.







 
Praise For…
---
"His book is a thrilling demonstration of what impressive investigative journalism looks like."—Inside Arabia

"It is a great spy story.... like Graham Greene."—Robert Scheer, Scheer Intelligence

"A gripping study of the collateral damage caused by government decision making in war... An expertly researched study of Government duplicity."—The Australian

"Davis' dogged reporting for three decades has produced a rollicking read, thanks to the depth and breadth of interviews he has conducted."—Otago Daily Times