The Peking Express: The Bandits Who Stole a Train, Stunned the West, and Broke the Republic of China (Hardcover)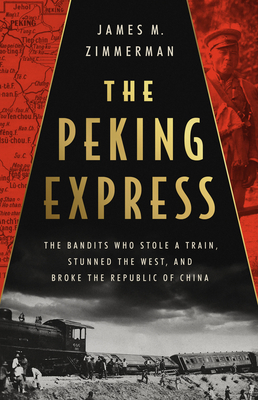 List Price: $30.00
Our Price: $25.50
(Save: $4.50 15%)
Warehouse, In Stock | Usually Ships in 1-5 Days | New
Description
---
The thrilling true story of train-robbing revolutionaries and passengers who got more than they paid for in this Murder on the Orient Express–style adventure, set in China's republican era.
 
In May 1923, when Shanghai publisher and reporter John Benjamin Powell bought a first-class ticket for the Peking Express, he pictured an idyllic overnight journey on a brand-new train of unprecedented luxury—exactly what the advertisements promised. Seeing his fellow passengers, including mysterious Italian lawyer Giuseppe Musso, a confidante of Mussolini and lawyer for the opium trade, and American heiress Lucy Aldrich, sister-in-law of John D. Rockefeller Jr., he knew it would be an unforgettable trip.
 
Charismatic bandit leader and populist rabble rouser Sun Mei-yao had also taken notice of the new train from Shanghai to Peking. On the night of Powell's trip of a lifetime, Sun launched his plan to make a brazen political statement: he and a thousand fellow bandits descended on the train, capturing dozens of hostages.
 
Aided by local proxy authorities, the humiliated Peking government soon furiously gave chase. At the bandits' mountain stronghold, a five-week siege began.
 
Brilliantly written, with new and original research, The Peking Express tells the incredible true story of a clash that shocked the world—becoming so celebrated it inspired several Hollywood movies—and set the course for China's two-decade civil war.
About the Author
---
James M. Zimmerman is a Beijing-based lawyer who has lived and worked in China for over 25 years. He is among China's leading foreign lawyers and represents companies and individuals confronted with the political and legal complexities of doing business in Mainland China. He is the author of the China Law Deskbook, published by the American Bar Association, and is frequently featured as a political commentator on US-China relations in various print and broadcast media around the globe. He is the former four-term Chairman of the American Chamber of Commerce in China. In addition to Beijing, he maintains a home in San Diego, California. 
Praise For…
---
"The Peking Express is a fascinating story, and the author has done an amazing amount of research. It's really an intriguing, impressive work."
—
Ian Johnson, Pulitzer Prize-winning journalist and author of The Souls of China
"Excellent…One of the salutary features of this book is Zimmerman's use of quoted speech, all of it sourced from memoirs and newspaper reports, so the human voice is heard often and to good effect." —
Paul Theroux, The New York Times
"
The Peking Express
is a vivid, exhilarating account of China's greatest train robbery of the early twentieth century. A true story about bandits, kidnapping, forced marches across the countryside, a pursuing Chinese army, diplomatic intrigue, and a cast of rather unique characters in 1923 China—what's not to love???"—
Paul French, author of Midnight in Peking and City of Devils
"
The Peking Express
is a dramatic story of survival, heroism, and political intrigue. It takes the reader from the bustling cosmopolitan city of Shanghai to the impoverished, rural landscape of the mysterious and breathtakingly beautiful mountains of southern Shandong. Zimmerman delivers a gripping account that captivates the reader from beginning to end—an ending that is both climatic and riveting in its description of the horrors and excesses of China's Warlord Era. This is a book that readers will never forget!"—
Lingling Wei, award-winning journalist; chief China correspondent, the Wall Street Journal; and coauthor of Superpower Showdown
"After a diet of turgid perorations by Xi Jinping, a reader needs relief. Zimmerman's tale of the 1923 hijacking of the
Peking Express
is just such an antidote. Not only has he done his research, but he spins a helluva good yarn!"—
Orville Schell, author of My Old Home
"
The Peking Express 
takes readers on a journey across China's countryside where a train robbery opens windows onto the tumultuous politics of twentieth-century China. Painting lively portraits of heroes, villains, saviors, and victims—but which was which?—Zimmerman tells a story that sets the stage for war and revolution, with echoes that persist to this day."—
Jay Carter, author of Champions Day
"[A] gripping debut history… Zimmerman weaves in snapshots of a country in turmoil, contrasting walled cities and starving villagers caught in the cross fire between bandits and warlords with thriving metropolises built by foreign interests. Dramatic and meticulously researched, it's an immersive look at a forgotten chapter of Chinese history."—
Publishers Weekly
"Vividly characterized… Tremendous insight into little-remembered yet crucial events at the beginning of the formation of modern China." —
Kirkus Reviews
"James Zimmerman, a Beijing-based lawyer who has lived in China for more than 25 years, has achieved a modern rarity. He has written a gripping new book on China that has nothing to do with how US-China rivalry is plunging the world into instability or whether Beijing is getting too close to Moscow…So extraordinary are the events recounted in 
The Peking Express
 that it reads like fantasy….Aside from yielding a captivating story of robbery, murder, hostages and intrigue,
The Peking Express
should also appeal to students of Chinese history."—
Financial Times
 "'The Peking Express: The Bandits Who Stole a Train, Stunned the West, and Broke the Republic of China' takes mountains of research and boils it down to a digestible telling of the 1923 train derailment that, despite having considerable political and personal consequences, had been largely forgotten. Aided by pictures and quotes — some directly from the bandits, hostages and other players involved in the so-called Lincheng Outrage — the lawyer takes on a surprisingly engaging voice as a historical author, cutting between people and scenes like a movie…. If you like historically accurate retellings of niche events, you'll be pleased…if you're willing to go along for the ride you'll find transportive moments and highlights of intrigue." —
The Associated Press
"It's an extraordinary story, tingling with memorable characters. Zimmerman, a lawyer and four-time chairman of the American Chamber of Commerce in China, who has lived in Beijing for 25 years, tells it with meticulous deftness." 
—
South China Morning Post
"Zimmerman presents a balanced and engaging narrative that sheds light on the trauma and challenges facing China at a pivotal moment in history. As the fates of the hostages and their captors remain suspenseful throughout the book, readers will enjoy a work of history that doubles as a page-turning story of survival."—
The World of Chinese
"Mr. Zimmerman peppers his fast-moving narrative with colorful details and memorable characters among both the hostages and their captors."—
The Wall Street Journal
"[Narrator David] Shih builds intensity from the first skirmish as bandits fire on the train…He provides a light touch amid the chaos during an encounter between several bandits and two American women. This thorough re-creation creates sympathy for those on all sides of the dramatic historical event."—
Audiofile