Kabul: The Untold Story of Biden's Fiasco and the American Warriors Who Fought to the End (Hardcover)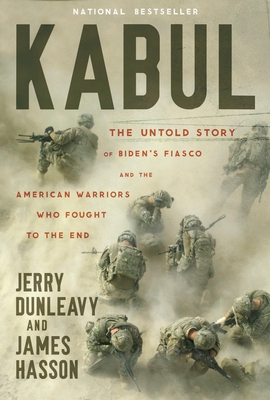 List Price: $29.00
Our Price: $24.65
(Save: $4.35 15%)
Warehouse, In Stock | Usually Ships in 1-5 Days | New
Description
---
A NATIONAL BESTSELLER 

This explosive book is the definitive account of the Biden administration's most disgraceful hour—and the chaos it unleashed in the world.
America's chaotic retreat from Afghanistan in 2021 was nothing short of a horror show. Women and children were trampled to death outside the gates of the Kabul airfield. Desperate Afghans fell from the landing gear of departing planes. Taliban fighters mercilessly whipped and humiliated U.S. civilians trying to access the few square miles still controlled by American forces. Countless Afghan interpreters were abandoned to the mercy of the Taliban after risking their lives alongside American troops for years. And thirteen U.S. service members—eleven of whom were still in preschool on 9/11—were murdered in an ISIS suicide bombing that could easily have been prevented.  
Still, the full story is worse than anyone imagined. Drawing from hundreds of hours of first-person interviews, investigative reporter Jerry Dunleavy and former Army Captain and Afghanistan veteran James Hasson provide an exclusive, no-holds-barred account of the disastrous events of August 2021.
Kabul
is packed with shocking and infuriating exclusive details about fatal politics and bureaucracy that contributed to the catastrophe. The authors also tell, for the first time, inspiring stories of the bravery and sacrifices exhibited by countless Americans on the ground.  
Kabul's
original reporting includes eyewitness accounts from servicemembers of all ranks who participated the rescue effort, inside information from senior intelligence officials, interviews with high-ranking members of allied governments, harrowing stories from Americans and Afghan allies willfully abandoned by craven officials in Washington, and exclusive details about veteran-led rescue missions that continue to this day. Chapter after chapter,
Kabul
depicts American government at its worst and "ordinary" Americans at their best.  
Ultimately, this book explains how Biden's Afghanistan retreat spurred a dangerous new era that persist for decades. While Americans watched the fall of Afghanistan with disbelief, our nation's enemies were also paying close attention.
About the Author
---
Jerry Dunleavy is an author, journalist, and investigator helping to lead the House Foreign Affairs Committee's investigation into the Afghanistan withdrawal. He previously worked as an investigative reporter for the Washington Examiner. He has published numerous groundbreaking stories of national importance, ranging from China's coverup of the COVID-19 outbreak in Wuhan to the FBI's atrocious mishandling of the Trump-Russia investigation. He frequently appears for in-depth discussions on Fox News and C-SPAN.

James Hasson is a former Army captain, graduate of U.S. Army Ranger School, and Afghanistan veteran who received the Bronze Star. He is deeply embedded in the active-duty military and veteran communities and assisted in the veteran-led evacuation efforts of Afghan allies and American citizens in August 2021. He has published articles on military and foreign policy issues in the New York Post, Washington Examiner, and other publications, and has appeared on media programs ranging from Tucker Carlson Tonight and Fox & Friends to NPR. Hasson's first book,Stand Down, was released in 2019.
Praise For…
---
"James Hasson and Jerry Dunleavy offer a gripping and uncompromising account of one of the most shameful moments in American history. The Afghanistan withdrawal was an unmitigated disaster caused by President Biden's incompetence. Hasson and Dunleavy meticulously detail how his failed leadership humiliated America and made the world a more dangerous place."—Senator Tom Cotton (U.S. Army veteran of the wars in Iraq and Afghanistan)

"Jerry Dunleavy and James Hasson provide a substantive account of the disastrous withdrawal from Afghanistan that should enrage and educate every reader. Their examination of the events that took place on the ground during this crisis not only provide truthful accounts for those still grieving their lost loved ones at Abbey Gate but confirm this withdrawal was the worst American foreign policy debacle in modern day history."—Congressman Michael Waltz, former Army Green Beret and Afghan war veteran

"James Hasson and Jerry Dunleavy provide a brutal, no-holds-barred account that reveals the scope of the Biden administration's disastrous withdrawal from Afghanistan. Every American should read Kabul."—Ben Shapiro, Editor Emeritus of The Daily Wire and Host of The Ben Shapiro Show