Rooms for Rent in the Outer Planets: Selected Poems 1962-1996 (Paperback)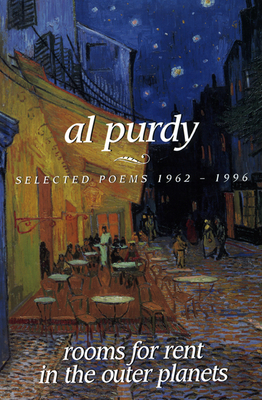 List Price: $16.95
Our Price: $14.41
(Save: $2.54 15%)
Warehouse, In Stock | Usually Ships in 1-5 Days | New
Description
---
A selection of poems by the man described by the Globe & Mail as "the greatest of our poets." Rooms for Rent in the Outer Planets includes three decades' worth of thought-provoking work, including poems from the Governor-General's Award-winning The Cariboo Horses to Naked with Summer in Your Mouth.

Purdy personally made this selection, assisted by Sam Solecki, the editor of Starting from Ameliasburgh: The Collected Prose of Al Purdy. In these poems, Purdy ponders the remains of a Native village; encounters Fidel Castro in Revolutionary Square; curses a noisy cellmate in the drunk tank; and marvels at the "combination of ballet and murder" known as hockey, all in the author's inimitable man-on-the-street style.

Rooms for Rent in the Outer Planets is destined to become the standard Purdy poetry volume for many years to come.
About the Author
---
CA
Praise For…
---
For the first time in its five-year history, Canada Reads, the CBC Radio program that encourages Canadians to join together each year in the reading of a single book, has shortlisted a book of poems. The book is Rooms for Rent in the Outer Planets, a selection of best hits by the man often called Canada's greatest poet, the late Al Purdy.

Rooms for Rent in the Outer Planets was nominated by the poet and novelist Susan Musgrave, who will defend her choice in head-to-head debate with champions of four competing titles in a marathon debate next April. Leading up to the great debate, the CBC network will undertake intensive promotion of all five shortlisted books, including biographical sketches of the authors and readings from the works. Purdy will also be the subject of a one-hour film on CBC television starring Gordon Pinsent. In past years Canada Reads has been highly successful at promoting awareness of selected titles, increasing sales by up to 35,000 copies.

Howard White of Harbour Publishing considers the selection of Rooms for Rent in the Outer Planets "an inspired choice," calling Purdy "Canada's poet."
"Anybody can read him, and have a ball doing it," says White. "I can't think of a book that would do all Canadians more good to sit down and read at this point in our history. It might save us yet. It's just too bad Al isn't here to see this happen. He would have been over the moon and probably would have written a poem to celebrate."

Rooms for Rent in the Outer Planets comprises three decades' worth of Purdy's finest work, including poems from the Governor-General's Award-winning The Cariboo Horses to Naked with Summer in Your Mouth. Purdy made the selection himself, assisted by Professor Sam Solecki, his biographer and editor of Yours, Al: The Collected Letters of Al Purdy. In these poems, Purdy ponders the remains of a Native village; encounters Fidel Castro in Revolutionary Square; curses a noisy cellmate in the drunk tank; and marvels at the "combination of ballet and murder" known as hockey, all in the author's inimitable man-on-the-street style.

Al Purdy was born December 30, 1918, in Wooler, Ontario and died in Sidney, BC, April 21, 2000. Raised in Trenton, Ontario, he spent his life criss-crossing the nation as he developed his reputation as one of Canada's greatest writers. He twice won Canada's most prestigious poetry prize, the Governor General's Award, first for Cariboo Horses (1965) and then for Collected Poems (1986). Later in life he travelled widely with his wife Eurithe while alternating their permanent residence between Ameliasburg, Ontario and Sidney, BC. In addition to thirty-three books of poetry, Purdy wrote a novel, an autobiography and nine collections of essays and correspondence. He was appointed to the Order of Canada in 1983 and the Order of Ontario in 1987. His ashes are buried in Ameliasburg at the end of Purdy Lane.

The four other books on the Canada Reads shortlist are Deafening by Frances Itani (HarperCollins 2003), Cocksure by Mordecai Richler (McClelland & Stewart 1968), Three Day Road by Joseph Boyden (Penguin 2005) and A Complicated Kindness by Miriam Toews (Vintage, Random House 2004). In April 2006, all five panellists will engage in a five-day "battle of the books" and each day, one book will be voted off the list until only the winner remains.
- -