Home Moving Kit (Paperback)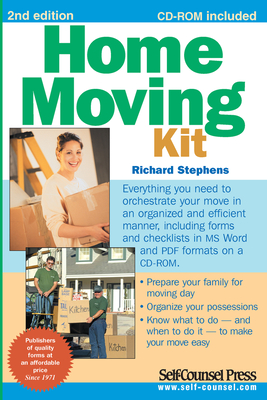 List Price: $14.95
Our Price: $14.20
(Save: $0.75 5%)
Description
---
Every month thousands of households change locations. Stress levels increase when it is time to change addresses while attempting to maintain what we call "home". The Home Moving Kit provides people with the means to orchestrate their moves in an organized and timely manner. It deals with neighborhood-to-neighborhood, city-to-city, and country-to-country moves, and contains information and checklists. Make your move less stressful! Moving is rated one of the most stressful experiences most of us will have. The Home Moving Kit provides you with ways to plan and execute your move with a minimum of stress.

Prepare your family for moving day

Organize your possessions

Know what to do — and when to do it — to make your move easy

Whether you are moving to another town, state, province, or country, this kit is for you. It is a step-by-step guide to planning your move and making it happen with a minimum of fuss and bother. Forms and checklists are provided to help you get and stay organized. You will learn how to:

Budget the move

Set a realistic timetable for packing

Determine what to take and what to leave

Evaluate and hire a moving company

Manage the packing process

Deal with moving pets and small children

Understand and avoid the most common mistakes

Pack in a way that makes unpacking easy

Special sections deal with moving between countries, moving your pets, and packing "how to's" for the do-it-yourself approach.

The CD-ROM included with this book contains all the forms and checklists described in the book. All forms and worksheets are in MS Word and PDF formats for use on a Windows-based PC.
About the Author
---
Richard Stephens is a retired software business executive who spent nearly two decades moving homes among continents (Africa, Asia, Europe, and North America), and within countries (America and Canada). He has moved home 19 times and believes he has made every mistake possible in those moves. This kit is his attempt to save others from making the same mistakes.