Tumbling for Amateurs (Paperback)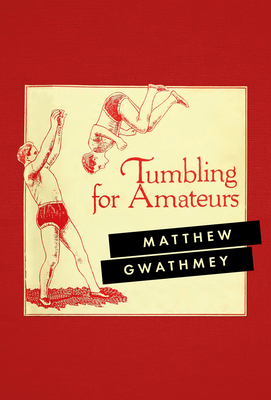 List Price: $17.95
Our Price: $15.26
(Save: $2.69 15%)
Warehouse, In Stock | Usually Ships in 1-5 Days | New
Description
---
A reimagining of an instructional text on tumbling supports poems about the amateurishness of being human.
Tumbling for Amateurs is a reimagining of James Tayloe Gwathmey's 1910 book of the same name, published as part of Spalding's Athletic Library. Bookended with "Propositions" on why tumbling is a skill that everyone should learn and "Extracts from Letters of Support," each verso poem in this collection pairs with a recto illustration based on drawings from the source text. In the spirit of William Blake's Songs of Innocence and of Experience, word and image work for each other, creating something more than just an instructional manual.
Tumbling is, well, a metaphor for everything. And we all are, well, amateurs. Experimentation abounds in these poems and manipulated pictures. There are anaphoras, list sonnets, erasures, palimpsests and concrete poems, all working from tumbling's limited vocabulary and central focus of acrobatics and gymnastics. In this experimentation of form and text is a search for the lyric, for an emotional connection when one isn't always possible, in bodies, in movement, in desire. "We measure our lives by what our bodies can do."
"Matthew Gwathmey's poems, springboarding from a genre of fitness manual popular in the early twentieth century, tumble us into the present through tests gamily set for body and mind. As ripped as his gymnast protagonists - evoked so fetchingly in the book's illustrations - Gwathmey writes a poetry eschewing the lyrical in favour of a stripped-down, athletic language that gives shape to 'what must remain / nameless.' There're so many ways to read ourselves into Tumbling for Amateurs. Go toe to toe with these poems and they'll tone up your grip on what poetry is." - John Barton, author of Lost Family

"We have no other way to touch each other. / Really no other way to touch each other. / We seek this particular exercise because / we have no other way to touch each other." Like the tumbling acts from which they spring, Gwathmey's poems are delightfully performative. They leap, loop, and reconfigure familiar forms into fresh and acrobatic new intimacies. Slyly queering his source text -- an early 20th century tumbling manual for young men salvaged from the dusty closet of family history -- Gwathmey transforms instruction into seduction as he conducts a tender and playful archeology of desire." - Suzanne Buffam, author of A Pillow Book

"Gwathmey's poems go together like a troupe, somersaulting through the vocabulary of the way a body moves. They turn the still past into this moving present." - Paul Legault, author of The Tower
About the Author
---
Matthew Gwathmey was born in Richmond, Virginia, and currently lives in Fredericton, New Brunswick, on Wolastoqey Territory, with his partner Lily and their five children. He studied creative writing at the University of Virginia and recently completed his PhD at UNB. He has work published in The Malahat Review, Crazyhorse, Prairie Fire, The Fiddlehead and The Iowa Review, as well as other literary magazines. His first poetry collection, Our Latest in Folktales, was published by Brick Books in the spring of 2019.