Deep-Sky Wonders: A Tour of the Universe with Sky and Telescope's Sue French (Hardcover)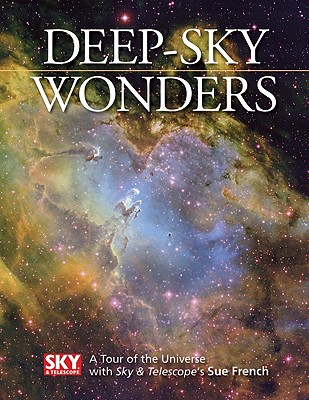 List Price: $39.95
Our Price: $37.95
(Save: $2.00 5%)
Description
---
A new collection from Sky and Telescope's popular columnist.
Sue French's elegant, informative monthly columns in Sky and Telescope magazine have won this astronomy writer a passionate following among astronomy enthusiasts. In 2005, French published 60 of these columns in Celestial Sampler, a book that garnered rave reviews and earned bestseller sales.
Deep-Sky Wonders is a welcome expansion of that winning format. A new collection of the best of French's "Deep-Sky Wonders" columns, the book is organized by season and subdivided into months, offering readers a total of 100 in-depth tours of the deep sky with enduring relevance.
The book includes:
Full-color photographs and detailed sketches of each tour
Descriptions of double and variable stars, star clusters, nebulae, galaxies and exotics
Historical and scientific background of particular interest
A tabular listing of the deep-sky sights
Color charts showing the position of each target in the night sky
An index to all of the deep-sky objects covered.
Deep-Sky Wonders also features a variety of challenging objects that encourage observers to test the limits of their equipment and skills. Fragments of poetry and prose enliven the text, while each tour illuminates little-known seasonal wonders that lie off the beaten path. From a January journey down the celestial river Eridanus to an autumnal visit to the den of Vulpecula, the Little Fox, French brings the wonders of the sky to life.
Suitable for beginning and intermediate small-scope astronomers as well as large-scope viewers and astrophotographers, this book will be greeted enthusiastically by all Sky and Telescope readers, especially French's many fans. It is also an outstanding introduction to deep-sky viewing for novice observers.
About the Author
---
Sue French has been an avid deep-sky observer for 32 years and has worked as a planetarium educator for 18 years. She sets up her telescope in her backyard near Schenectady, New York, but travels regularly to enjoy the deep sky from different vantage points.