My Name Is Parvana (Breadwinner #4) (Paperback)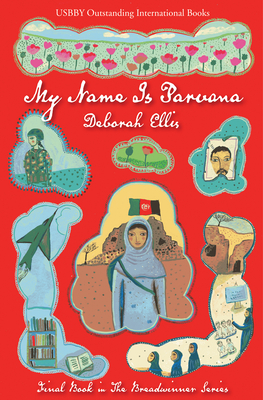 List Price: $9.95
Our Price: $8.46
(Save: $1.49 15%)
Warehouse, In Stock | Usually Ships in 1-5 Days | New
Other Books in Series
This is book number 4 in the Breadwinner series.
Description
---
The fourth book in the internationally bestselling series that includes The Breadwinner, Parvana's Journey and Mud City.
In this stunning sequel, Parvana, now fifteen, is found in a bombed-out school and held as a suspected terrorist by American troops in Afghanistan.
On a military base in Afghanistan, after the fall of the Taliban in 2001, American authorities have just imprisoned a teenaged girl found in a bombed-out school. The army major thinks she may be a terrorist working with the Taliban. The girl does not respond to questions in any language and remains silent, even when she is threatened, harassed and mistreated over several days. The only clue to her identity is a tattered shoulder bag containing papers that refer to people named Shauzia, Nooria, Leila, Asif, Hassan -- and Parvana.
In this long-awaited sequel, Parvana is now fifteen years old. As she waits for foreign military forces to determine her fate, she remembers the past four years of her life. Reunited with her mother and sisters, she has been living in a village where her mother has finally managed to open a school for girls. But even though the Taliban has been driven from the government, the country is still at war, and many continue to view the education and freedom of girls and women with suspicion and fear.
As her family settles into the routine of running the school, Parvana, a bit to her surprise, finds herself restless and bored. She even thinks of running away. But when local men threaten the school and her family, she must draw on every ounce of bravery and resilience she possesses to survive the disaster that kills her mother, destroys the school, and puts her own life in jeopardy.
A riveting page-turner, Deborah Ellis's final novel in the series is at once harrowing, inspiring and thought-provoking. And, yes, in the end, Parvana is reunited with her childhood friend, Shauzia.
The paperback edition includes a new cover and map, and an author's note to provide background and context. Royalties from the sale of this book will go to Canadian Women for Women in Afghanistan. Parvana's Fund supports education projects for Afghan women and children.
Correlates to the Common Core State Standards in English Language Arts:
CCSS.ELA-LITERACY.RL.5.3
Compare and contrast two or more characters, settings, or events in a story or drama, drawing on specific details in the text (e.g., how characters interact).
CCSS.ELA-LITERACY.RL.6.3
Describe how a particular story's or drama's plot unfolds in a series of episodes as well as how the characters respond or change as the plot moves toward a resolution.
CCSS.ELA-LITERACY.RL.6.9
Compare and contrast texts in different forms or genres (e.g., stories and poems; historical novels and fantasy stories) in terms of their approaches to similar themes and topics.
About the Author
---
Deborah Ellis is the author of over 18 books, many of them bestsellers worldwide. She lives in Simcoe, Ontario.