SeaMan: The Dog Who Explored The West With Lewis & Clark (Paperback)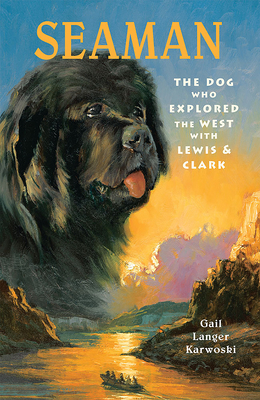 List Price: $9.99
Our Price: $8.49
(Save: $1.50 15%)
Description
---
A 150-pound Newfoundland dog teams with Lewis & Clark for an edge-of-your-seat middle grade adventure.

It is 1804, the year that Meriwether Lewis, William Clark, and the Corps of Discovery set out for their now-legendary exploration of the Louisiana Purchase. With no maps and little idea what wonders and dangers lie ahead, Seaman, a 150-pound Newfoundland dog, proves to be one of the most valuable members of the Corps.

In the face of starvation, Seaman catches and retrieves game, and his intimidating size and teeth protect the small band of explorers – from Native American raiders and even a ferocious grizzly bear! As the bond and mutual trust between Seaman and the Corp grows, they're confident that nothing—not even raging waters and towering mountains—will stop them from reaching the West Coast.

This thrilling fictional account of Lewis and Clark's expedition with the Corps of Discovery, Seaman, and eventually Sacagawea, is full of accurate details drawn from Lewis's own diary entries and will draw readers into one of the most exciting chapters in American history.
About the Author
---
Gail Langer Karwoski received a BA from the University of Massachusetts and an MA from the University of Minnesota. She taught third- and fourth-grade students for many years. Karwoski has published several picture books and historical novels for middle readers. She lives in Georgia.

James Watling lived in Canada, where he was a professor of art education at McGill University. He illustrated more than fifty books, many of them for young readers. He died in 2006.
Praise For…
---
"James Watling's many handsome, shaded-pencil drawings will help readers visualize the setting, hardships, and dramatic moments of the story; and two maps will enable them to follow the explorers' route. An effective, fictional introduction to the Lewis and Clark expedition." —Booklist

"Once young readers begin this fictional account of the dog's role in the expedition, they will be caught up in the drama and action and even reluctant readers will find it just too good to put down." —School Library Journal