The Nature and Determinants of Disclosure Adequacy: An International Perspective (Hardcover)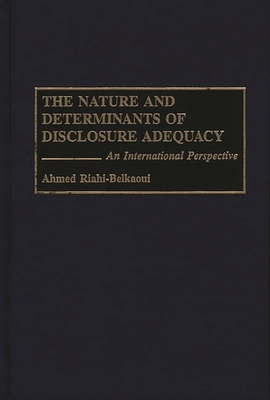 This item is backordered and not currently available. Please contact us for an estimated availability date.
Description
---
The functioning of the global economy depends very much on the quality and quantity of information provided by multinational corporations, not only to investors and taxing agencies but also to governmental policymakers. Underlying this is the concept of disclosure adequacy. It refers to ways in which the quality of information that MNC's divulge about their economic transactions can be measured, and such information and its adequacy can vary widely from country to country. How this happens and why it should be so--what the nature of disclosure adequacy and its determinants are--is the subject of Riahi-Belkaoui's latest Quorum book. Academics in finance and accounting will recognize quickly the beginnings of a contingency theory of disclosure adequacy internationally, one that identifies various relativisms and presents empirical evidence for their validity. Financial analysts and other investment professionals will gain useful ways to work with (and make sense of) foreign firms' annual reports, while public policy people will find insights to aid in the harmonization of accounting principles.
Riahi-Belkaoui's contingency approach to disclosure adequacy identifies determinants based on cultural, linguistic, political, civil, economic and demographic relativisms, on legal and tax relativisms and even on religious relativism. He presents evidence that accounting for information adequacy does in fact have a positive impact on economic growth. It is also an ideal mechanism by which firms can control conflicts created by favorable or unfavorable information regarding the general investment climate of a particular country. He examines international differences in disclosure adequacy, then proves there is a positive relationship between the functionings of global stock exchanges and economic and human development. From there he discusses the relationship between disclosure adequacy and political, economic, and civil factors. Finally, he examines four cultural dimensions--individualism, power distance, uncertainty avoidance, masculinity--and their impact not only on disclosure adequacy but on the way the entire accounting enterprise is practiced internationally.
About the Author
---
AHMED RIAHI-BELKAOUI is CBA Distinguished Professor of Accounting at the University of Illinois at Chicago. He is the author of many Quorum titles, including his most recent book, Multinationality and Firm Performance (1996).