The Handy Book of Horse Tricks: Easy Training Methods for Great Results (Paperback)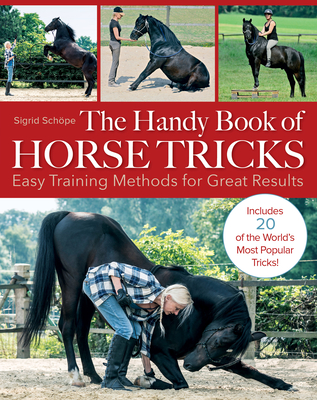 List Price: $16.95
Our Price: $14.41
(Save: $2.54 15%)
Description
---
Over the past two decades, trick training for horses has become immensely popular: Not only are there a number of top horsemen and women who tour the world performing in front of huge audiences, but more and more riders--both competitive and recreational--appreciate that varying a horse's work and training routine is of significant importance when trying to ensure a willing athletic partner capable of performing his best.
Groundwork and trick training specialist Sigrid Sch pe has found great success teaching her own horses tricks, which they enjoy doing as part of their regular groundwork and under-saddle schooling routines. Here she shares her techniques, using positive, conscientious methods that are easy to follow--and a whole lot of fun By following the simple steps and clear color photos, readers will find their horses will learn over 20 of the world's most popular tricks in no time, including:
- bowing
- kneeling
- lying down
- sitting
- rearing on command
- performing the Spanish walk
- standing on a pedestal
- taking a blanket off
- stacking cones
- playing soccer, and more
This handy guide is not only sure to improve connection and partnership between horse and handler, it is a great way to bring light-heartedness and a little playtime to every barn.