The Great Book of Chocolate: The Chocolate Lover's Guide with Recipes [A Baking Book] (Paperback)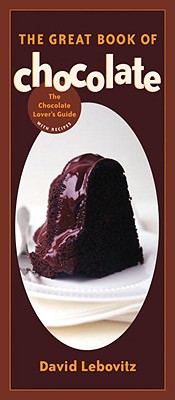 List Price: $16.99
Our Price: $16.14
(Save: $0.85 5%)
Description
---
A compact connoisseur's guide, with recipes, to today's cutting-edge array of chocolates and chocolate makers from former Chez Panisse pastry chef David Lebovitz.

In this compact volume, David Lebovitz gives a succinct cacao botany lesson, explains the process of chocolate making, runs through chocolate terminology and types, presents information on health benefits, offers an evaluating and buying primer, profiles the world's top chocolate makers and chocolatiers (with a whole chapter dedicated to Paris alone!), and shares dozens of little-known factoids in sidebars throughout the book.

The Great Book of Chocolate includes more than 50 location and food photographs, and features more than 30 of Lebovitz's favorite chocolate recipes' from Black-Bottom Cupcakes to Homemade Rocky Road Candy, Orange and Rum Chocolate Mousse Cake to Double Chocolate Chip Espresso Cookies. His extensive resource section (with websites for international ordering) can bring the world's best chocolate to every door. A self-avowed chocoholic, Lebovitz nibbles chocolate every day' and with The Great Book of Chocolate in hand, he figures the rest of us will too.
About the Author
---
DAVID LEBOVITZ has been a professional cook and baker for most of his life; he spent nearly thirteen years at Chez Panisse until he left the restaurant business in 1999 to write books. He moved to Paris in 2004 and turned davidlebovitz.com into a phenomenally popular blog. He is the author of six books, including The Perfect Scoop, Ready for Dessert, The Great Book of Chocolate, and a memoir called The Sweet Life in Paris, and he was named one of the Top Five Pastry Chefs in the Bay Area by the San Francisco Chronicle. David has also been featured in Bon Appétit, Food & Wine, Cook's Illustrated, the Los Angeles Times, the New York Times, Saveur, Travel + Leisure, and more.