The College of the Atlantic Guide to the Lakes and Ponds of Mt. Desert: Discovering the Freshwater Gems of Maine's Largest Island (Paperback)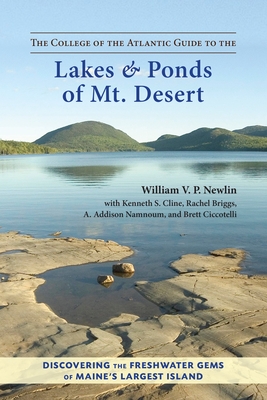 List Price: $19.95
Our Price: $16.96
(Save: $2.99 15%)
Description
---
Mt. Desert Island, located off the coast of Maine, is blessed with more than twenty-five lakes and forty streams, but most visitors to the island are attracted by its granite coast and never get to explore "the lake country." The revised and expanded edition of this one-of-a-kind guide is designed to give visitors the tools they need to get the most of this remarkable feature of Mt. Desert.  

In collaboration with students, graduates, and a professor from College of the Atlantic, author and longtime island summer resident William Newlin offers tips on what lakes are best for activities like boating, swimming, fishing, hiking, biking, and picnicking and provides readers the specific details they will need to make the most of their visit. Just where do you launch your kayak? Where are the best picnic rocks? What fish are available?  

Containing beautiful photos and illustrations, detailed, full-color maps, and informative sidebars that fill the reader in on interesting bits of natural history and local lore, this is an essential resource for vacationers and local adventurers alike.
About the Author
---
William V. P. Newlin has been exploring Mt. Desert Island's many freshwater lakes, ponds and streams for a lifetime—with interruptions when his Foreign Service career took him to such places as Paris, Brussels, Nice, and Guatemala. Whether at home or abroad, he says his main interests include fly-fishing and exploring watery habitats. His enthusiasm and expertise come across clearly in this unique introduction to the islands freshwater—its lakes and streams. Bill and his wife, of 58 years, Louisa, have three grown children and make their home in both Washington, DC, and Northeast Harbor, Maine—where they met more than 60 years ago.
 
Kenneth S. Cline teaches environmental law and policy courses at College of the Atlantic with a special emphasis on fresh water and public lands. He owes a debt of gratitude to his two sons for helping him explore all of MDI's lakes and ponds over the years.
 
Rachel Briggs, a recent graduate of College of the Atlantic, is headed west for new adventures.
 
A. Addison Namnoum (College of the Atlantic 2014) concentrates her studies on writing and place identity.
 
Brett Ciccotelli loves water and manages an organic farm on Mount Desert Island so he never checks his email.
Praise For…
---
"Lakes & Ponds of Mt. Desert is the definitive field guide to outdoor adventure on Mt. Desert Island and in Acadia National Park. William Newlin, Ken Cline, and company have knocked it out of the park with their intimate local knowledge, detailed descriptions, comprehensive coverage, and interesting historical tidbits and anecdotes. Everything you need to know about getting outside, on water—and on land—is covered.
Enjoying the outdoors on MDI and in Acadia is as much about the interaction of people and nature as it is a simple exercise in botany, geology, hydrology, history, and climate. Lakes and Ponds of Mt. Desert pulls all these disciplines together in just the right portions.
While other books may just dip their metaphorical toes into some of these areas, Lakes and Ponds jumps right in. It belongs front and center on the bookshelves and in the backpacks of lovers of MDI and Acadia everywhere."
—Earl Brechlin, author of A Pocket Guide to Hiking on Mount Desert Island, editor of the Mt. Desert Islander, and Registered Maine Guide

"This book is the go-to resource for anyone seeking to explore the freshwater gems of 'inland' Mt. Desert Island. Like the best guides, Bill Newlin mixes practical advice with good storytelling; he points the reader in the right direction, but allows plenty of opportunity for discovery. If you can't have Bill as your paddling partner, this volume is the next best thing." 
—David MacDonald, president, Friends of Acadia

"The stars must have been aligned as work on the updated Lakes & Ponds of Mt. Desert was accomplished. The right people contributed to this well documented and beautifully illustrated text; the end product is a superb contribution to our understanding of this, our island home. For residents and visitors alike, this book has my highest recommendation."
—Paul Haertel, former superintendent, Acadia National Park