Mark Twain's Literary Resources: A Reconstruction of His Library and Reading (Volume One) (Hardcover)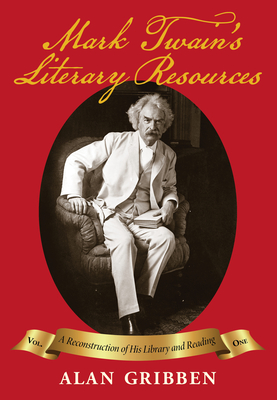 List Price: $45.00
Our Price: $38.25
(Save: $6.75 15%)
Warehouse, In Stock | Usually Ships in 1-5 Days | New
Description
---
This first installment of the new multi-volume Mark Twain's Literary Resources: A Reconstruction of His Library and Reading recounts Dr. Alan Gribben's fascinating 45-year search for surviving volumes from the large library assembled by Twain and his family. That collection of more than 3,000 titles was dispersed through impromptu donations and abrupt public auctions, but over the years nearly a thousand volumes have been recovered. Gribben's research also encompasses many hundreds of other books, stories, essays, poems, songs, plays, operas, newspapers, and magazines with which Mark Twain was demonstrably familiar.
Gribben published the original edition of
Mark Twain's Library
in 1980. Hailed by the eminent Twain scholar Louis J. Budd as "a superb job that will last for generations," the work nevertheless soon went out of print and for three decades has been a hard-to-find item on the rare book market. Meanwhile, over a distinguished career of writing, teaching, and research on Twain, Gribben continued to annotate, revise, and expand the content such that it has become his life's masterwork. Thoroughly revised, enlarged, and retitled,
Mark Twain's Literary Resources: A Reconstruction of His Library and Reading
now reappears, to greatly expand our comprehension of the incomparable author's reading tastes and influences. Volume I traces Twain's extensive use of public libraries. It identifies Twain's favorite works, but also reveals his strong dislikes--Chapter 10 is devoted to his "Library of Literary Hogwash," specimens of atrocious poetry and prose that he delighted in ridiculing. In describing Twain's habit of annotating his library books, Gribben reveals his methods of detecting forged autographs and marginal notes that have fooled booksellers, collectors, and libraries. The volume's 25 chapters trace from various perspectives the patterns of Twain's voracious reading and relate what he read to his own literary outpouring. A "Critical Bibliography" evaluates the numerous scholarly books and articles that have studied Twain's reading, and an index guides readers to the volume's diverse subjects. Twain enjoyed cultivating a public image as a largely unread natural talent; on occasion he even denied being acquainted with titles that he had owned, inscribed, and annotated in his own personal library. He convinced many friends and interviewers that he had no appetite for fiction, poetry, drama, or belles-lettres, yet Gribben reveals volumes of evidence to the contrary. He examines this unlettered pose that Twain affected and speculates about the reasons behind it. In reality, whether Twain was memorizing the classic writings of ancient Rome or the more contemporary works of Milton, Byron, Shelley, Dickens, and Tennyson--or, for that matter, quoting from the best-selling fiction and poetry of his day--he exhibited a lifelong hunger to overcome the brevity of his formal education. Several of Gribben's chapters explore the connections between Twain's knowledge of authors such as Malory, Shakespeare, Poe, and Browning, and his own literary works, group readings, and family activities. Volumes II and III of
Mark Twain's Literary Resources: A Reconstruction of His Library and Reading
will be released in 2019 and will deliver an "Annotated Catalog" arranged from A to Z, documenting in detail the staggering scope of Twain's reading.
About the Author
---
DR. ALAN GRIBBEN co-founded the Mark Twain Circle of America, compiled Mark Twain's Library: A Reconstruction, and recently co-edited Mark Twain on the Move: A Travel Reader. Gribben has written numerous essays about Mark Twain's life and image. He teaches on the English faculty of Auburn University at Montgomery and edits the Mark Twain Journal.