Principles of Political Economy (Great Minds) (Paperback)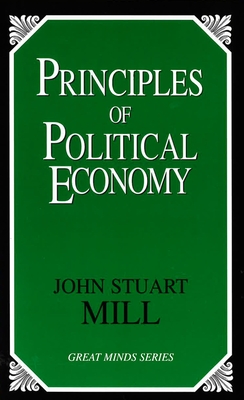 List Price: $21.99
Our Price: $19.57
(Save: $2.42 11%)
Warehouse, In Stock | Usually Ships in 1-5 Days | New
Description
---
The standard economics textbook for more than a generation, John Stuart Mill's Principles of Political Economy (1848) was really as much a synthesis of his predecessors' ideas as it was an original economic treatise. Heavily influenced by the work of David Ricardo, and also taking ideas from Adam Smith and Thomas Malthus, Mill systematically demonstrated how important economic concepts could be applied to real-world situations. In his emphasis on realism, Mill thus took economics out of the realm of the abstract and placed it squarely within the context of society.
For instance, he made a convincing case that wages, rent, and profit are not necessarily the expression of immutable laws that are independent of society. Rather, they are in actuality the results of social institutions and as such can be changed if the members of a society move to break traditional institutional habits. Reflecting his utilitarian social philosophy, Mill suggested that social improvements are always possible. He thus proposed modifying a purely laissez faire system, advocating trade protectionism and regulation of employees' work hours for the benefit of domestic industries and workers' well-being. In such features he displayed a leaning toward socialism.
In summing up his objective for this massive work, Mill said later in his Autobiography (1873) that he wished "to unite the greatest individual liberty of action, with a common ownership in the raw material of the globe, and an equal participation of all in the benefits of combined labour." For anyone with an interest in the history of economics or the history of ideas, this landmark work of classical economics makes for stimulating and in many respects still very relevant reading.
About the Author
---
JOHN STUART MILL was born in London on May 20, 1806, the son of noted Scottish economist and philosopher James Mill, who held an influential post in the powerful East India Company. Mill's natural talent and physical stamina were put to the test at a very young age when he undertook a highly structured and individual­ized upbringing orchestrated by his father, who believed that the mind was a passive receptacle for human experience. His educa­tion and training were so intense that he was reading Greek at the age of three and doing independent writing at six.

Mill's education broadened considerably after 1823 when he entered the East India Company to commence his life's career as his father had done before him. He traveled, became politically involved, and in so doing moved away from the narrower sectar­ian attitudes in which he had been raised. His ideas and imagina­tion were ignited by the views of such diverse personalities as Wordsworth, Saint-Simon, Coleridge, Comte, and de Tocqueville.

During his life, Mill wrote many influential works: System of Logic (1843); Principles of Political Economy (1848); On Liberty (1859); The Subjection of Women (1861); Utilitarianism (1863); Examination of Sir William Hamilton's Philosophy (1865); and Autobiography (1873).

As a defender of individual freedom and human rights, John Stuart Mill lives on as a nineteenth-century champion of social reform. He died on May 7, 1873.