The Unhappy Child: What Every Parent Needs to Know (Paperback)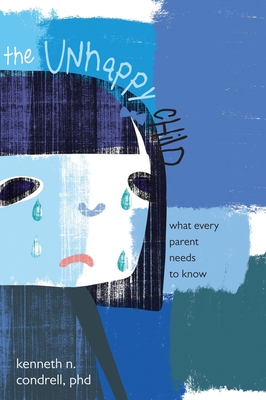 List Price: $21.00
Our Price: $17.85
(Save: $3.15 15%)
Description
---
There are millions of children in this country who spend most of their days feeling more unhappy than happy, and their parents haven't a clue as to why. These chronically unhappy children may be on their way to developing a depressive disorder.
In this important and completely accessible book, Dr. Kenneth N. Condrell teaches both parents and mental health professionals the ten most common, yet sometimes not-so-obvious causes of childhood unhappiness. More important, he offers practical solutions — solutions that can help troubled children and protect them from a lifetime of unhappiness.
Not only parents but school administrators, guidance and teaching personnel, pediatric office staff, and mental health professionals will greatly benefit from Dr. Condrell's 35 years of experience helping children with emotional problems.
Readers will actually hear from the mouths of children what makes them unhappy. By using actual quotes from kids whom Dr. Condrell has treated, this unusually insightful book bridges the separate worlds of the growing child and parents, so mom and dad can discover the secret pain that children are so good at keeping from them.
Parents are often at a loss as to how they can help a child who looks and acts unhappy most of the time or makes statements such as:
"I wish I was dead."
"I'm going to kill myself."
"I hate myself."
"Nothing ever good happens to me."
This book will make parents aware of the kinds of experiences that cause children to become unhappy. With this knowledge parents can be proactive and protect their sons and daughters from entering a state of unhappiness that places them at risk for becoming depressed and possibly developing into depressed adults.
About the Author
---
Kenneth N. Condrell, Ph.D. (Buffalo, NY), is a child psychologist and family therapist who has been in private practice for thirty-five years. He is Clinical Assistant Professor, Department of Psychiatry, School of Medicine, at the State University of New York at Buffalo. A popular lecturer, he has appeared on CBS, NBC, and CNN. He is also the author of Be a Great Divorced Dad, and Wimpy Parents: From Toddler to Teen. In addition, he is a consultant for Fisher-Price.
More on Dr. Condrell and this topic can be found at
www.theunhappychild.com.
Praise For…
---
"The Unhappy Child has many excellent suggestions for the ordinary parent (the parent who is not a professional). It is direct and simple and wonderful."
SOL GORDON, PhD
Author of Raising a Child Conservatively
in a Sexually Permissive World

"Unhappiness is widespread in our children, and this book will help alleviate the problem. Ken Condrell has written a very useful guidebook for adults seeking to help children navigate the troubled waters of American life at home and at school. It is clearly written and well grounded in professional practice."
JAMES GARBARINO, PhD
Maude C. Clarke Chair in Humanistic Psychology
Loyola University, Chicago