Rurouni Kenshin, Vol. 10 (Paperback)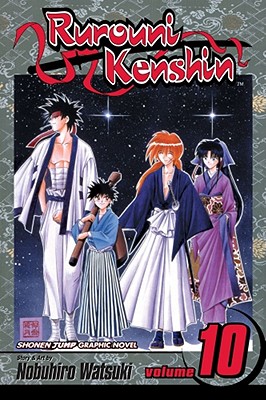 List Price: $9.99
Our Price: $9.49
(Save: $0.50 5%)
Other Books in Series
This is book number 10 in the Rurouni Kenshin series.
Description
---
The battle to decide the fate of Meiji-era swordsmanship has begun!

Action, romance, and historical intrigue help make Nobuhiro Watsuki's Rurouni Kenshin, the tale of a wandering swordsman set against the backdrop of the Meiji Restoration, one of the most popular Shonen Jump titles among fans to date. Himura Kenshin, once an assassin (or hitokiri ) of ferocious power, now fights to protect the honor of those in need.

His sakabato broken in battle, Kenshin seeks out the man who forged it--Arai Shakkû--only to be turned away. Seikû, son of the legendary swordsmith, had for a time been continuing his father's work (the forging of katana, meant for killing), but has since given up that calling and spends his time making humble cooking knives. Respecting Seikû's wishes, Kenshin leaves without the desired blade...but not before Shishio's spies learn that Shakkû has forged one last sword. Meanwhile, Shishio arrives in Kyoto with orders for his ten generals or "Ten Swords" to join him and put into motion a plan to take over Japan. Chô, one of Shishio's "swords," learns early of Shakkû's final blade and determines to secure it at any cost. Now, armed only with his broken sakabatô, Kenshin must face Chô in battle...
About the Author
---
Rurouni Kenshin, which has found fans not only in Japan but around the world, first made its appearance in 1992 as an original short story in Weekly Shonen Jump Special. Later rewritten and published as a regular, continuing Jump series in 1994, Rurouni Kenshin ended serialization in 1999 but continued in popularity, as evidenced by the 2000 publication of Yahiko no Sakabatô (Yahiko's Reversed-Edge Sword) and the 2015 publication of Rurouni Kenshin: Restoration in Weekly Shonen Jump. The series has also inspired novels, anime and films. Watsuki is also the author of the popular series Buso Renkin, published by VIZ Media.