Rurouni Kenshin, Vol. 13 (Paperback)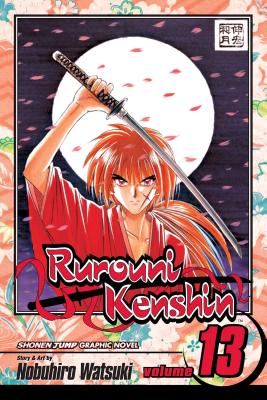 List Price: $7.95
Our Price: $7.55
(Save: $0.40 5%)
Other Books in Series
This is book number 13 in the Rurouni Kenshin series.
Description
---
The battle to decide the fate of Meiji-era swordsmanship has begun!

Action, romance, and historical intrigue help make Nobuhiro Watsuki's Rurouni Kenshin, the tale of a wandering swordsman set against the backdrop of the Meiji Restoration, one of the most popular Shonen Jump titles among fans to date. Himura Kenshin, once an assassin (or hitokiri ) of ferocious power, now fights to protect the honor of those in need.

The Great Kyoto Fire behind them (and casualties relatively slight), Kenshin and the others consider their next move. The Oniwabanshu may indeed be allies this time ("Now there's a weird twist," as Sano says), but their leader, Shinomori Aoshi, is not. Is Kenshin truly, as it is claimed, the only one who can bring peace to the former Okashira or "head" of the Kyoto-based spy group...? Elsewhere, madman Shishio Makoto has made his own plans for Kenshin and the others, plans involving a "man-to-man," death match-style battle to the finish…
About the Author
---
Rurouni Kenshin, which has found fans not only in Japan but around the world, first made its appearance in 1992 as an original short story in Weekly Shonen Jump Special. Later rewritten and published as a regular, continuing Jump series in 1994, Rurouni Kenshin ended serialization in 1999 but continued in popularity, as evidenced by the 2000 publication of Yahiko no Sakabatô (Yahiko's Reversed-Edge Sword) and the 2015 publication of Rurouni Kenshin: Restoration in Weekly Shonen Jump. The series has also inspired novels, anime and films. Watsuki is also the author of the popular series Buso Renkin, published by VIZ Media.