Rockhounding & Prospecting: Upper Midwest: How to Find Gold, Copper, Agates, Thomsonite & Other Favorites (Paperback)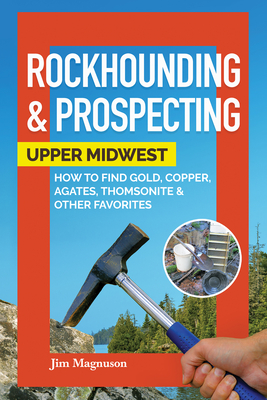 List Price: $19.95
Our Price: $16.96
(Save: $2.99 15%)
Warehouse, In Stock | Usually Ships in 1-5 Days | New
Description
---
Find and Collect the Most Sought-After Rocks & Minerals
Rock collecting is the treasure hunt of a lifetime, and the Upper Midwest is a wonderful place to start. The region is home to a variety of collectible and valuable specimens of rocks and minerals. From Lake Superior Agates to Petoskey Stone to geodes and fossils, the area's offerings provide a challenge but are possible--and in some cases likely--to be found with the right approach. Rockhounding expert Jim Magnuson is here to help In this beginner's guide, the author presents his easy-to-follow process to help you maximize your rock-hunting adventures.
Jim takes an in-depth look at the region's most sought-after targets, including precious metals like silver and gold. Then he teaches you what to look for, where to look, and even how to prospect for them. Learn to dig for, find, and identify each kind. All the information you need is right here within this thorough yet accessible guide.
Full-color photographs show you the specimens as you're likely to find them in the field, while range maps tell you if you're in the right place. Jim points you to locations where you're allowed to hunt and collect, and the book includes need-to-know information on equipment, safety, and the legality of collecting. Plus, there's advice on polishing your finds and even tips on which Midwest rock events are most worth attending.
Perfect for residents and visitors of Illinois, Iowa, Michigan, Minnesota, Missouri, South Dakota, and Wisconsin, Rockhounding & Prospecting: Upper Midwest is everything you need in one handy guide.
About the Author
---
For author Jim Magnuson, rockhounding is not only a hobby, but it's also a serious and rewarding avocation that helps him connect with nature. He has been an avid hunter and student of various gems, minerals, and fossils since his childhood, when he first began to hunt for stones in his native state of Illinois. These experiences taught Jim the importance of persistence and the willingness to follow the road less traveled in order to find unique or rare kinds of rocks. Jim also enjoys sharing his passion through writing, both creatively and from a practically oriented process perspective. Because of Jim's in-depth knowledge, he is frequently called upon to present to groups such as rock and mineral clubs, geological societies, and educational institutions that focus on outdoor and environmental interests. In addition to Jim's passion for prospecting and hunting, he also likes to perform various lapidary arts with the stones that he finds, and he has a small business making and selling custom-polished stones and jewelry pieces. Finally, Jim enjoys creating photographic illustrations that are up close and personal for prospecting, hunting, and lapidary work. Jim was a photographer for his high school and college newspapers and yearbooks, where he focused on student activities that created perspectives on campus life. This experience has helped Jim capture unique and compelling photographic images for modern-day gem and mineral prospecting.