The Dog Tricks and Training Workbook: A Step-by-Step Interactive Curriculum to Engage, Challenge, and Bond with Your Dog (Hardcover)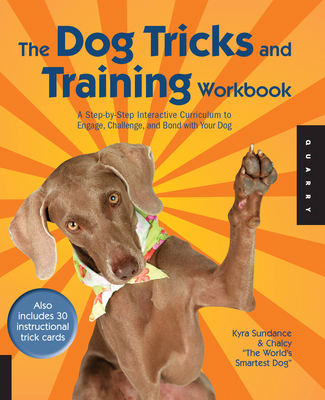 List Price: $22.99
Our Price: $21.84
(Save: $1.15 5%)
Other Books in Series
This is book number 2 in the Dog Tricks and Training series.
Description
---
This follow-up guide to the internationally best-selling 101 Dog Tricks invites you to focus on 30 foundational tricks and to track and gauge your progress in teaching them with 30 trick cards, a workbook, and online video tutorials. The program will enhance not only your dog's performance, but your overall relationship with your dog.

With this workbook, learn the core concepts of dog training, and apply those concepts in training 30 different tricks. As you progress, you will find directions to pull certain trick cards that illustrate the step-by-step instructions for teaching that trick. The online videos supplement and enhance these instructions with video sequences of the tricks. As you work from level to level, you will master the key elements of dog training—timing, technique, motivation, and building on known behaviors—as you achieve a stronger bond with your dog. Each section concludes with review quizzes and prompts to re-evaluate your knowledge, your dog's progress, and your relationship.

The numbered trick cards identify the difficulty level and the specific skill reinforced for each trick. The tricks are explained with step-by-step instructional text and photos, with space for notes and logging your progress, and range from basic (Sit, Shake Hands, Paws Up) to advanced (Newspaper Delivery, Tidy Up Your Toys, Get a Soda from the Fridge).

With this complete curriculum in dog tricks, you will establish a conscious and consistent pattern of relating to your dog in a meaningful partnership based on trust, communication, and respect.

Also by Kyra Sundance, learn to do even more with your dog with: 101 Dog Tricks; 51 Puppy Tricks; 10-Minute Dog Training Games; 101 Dog Tricks, Kids Edition; Dog Training 101; The Pocket Guide to Dog Tricks; Kyra's Canine Conditioning; and The Joy of Dog Training.
About the Author
---
Kyra Sundance is a world-renowned dog trainer, lecturer, and internationally best-selling author of 101 Dog Tricks: Step by Step Activities to Engage, Challenge and Bond with Your Dog. With over a million copies in print, Kyra's award-winning books, kits, and DVDs have inspired dog owners worldwide to develop fun and rewarding relationships with their dogs. Her other books include Dog Training 101, The Joy of Dog Training, The Dog Tricks and Training Workbook, Kyra's Canine Conditioning, 51 Puppy Tricks, 10-Minute Dog Training Games, The Pocket Guide to Dog Tricks, and 101 Dog Tricks, Kids Edition.
Honed through decades of professional experience, Kyra's easy step-by-step training methods are the most effective and humane way to train. Her positive methods foster confident, happy dogs who are motivated to do the right thing, rather than fearful of making a mistake.
As professional performers, Kyra and her Weimaraners starred in shows for the king of Morocco, Disney's Hollywood stage shows, circuses, NBA halftime shows, on The Tonight Show, Ellen, Animal Planet, in movies, and in their own television series. Kyra is a professional set trainer for movie dogs, and is nationally ranked in competitive dog sports. She presents workshops around the world on dog tricks and canine conditioning.
Kyra is CEO of "Do More With Your Dog!" trick dog titling organization; the "National Trick Dog championships"; and Chair of the "Trick Dog Expo."
Kyra lives in Lancaster, California.