51 Puppy Tricks: Step-by-Step Activities to Engage, Challenge, and Bond with Your Puppy (Dog Tricks and Training #3) (Paperback)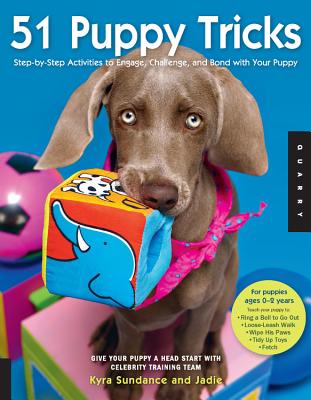 List Price: $18.99
Our Price: $18.04
(Save: $0.95 5%)
Other Books in Series
This is book number 3 in the Dog Tricks and Training series.
Description
---
Give your puppy a head start! 51 Puppy Tricks gives you the tools you need to teach your puppy essential skills, helpful behaviors, and fantastic tricks through step-by-step instructions and photographs. Tricks and tips are specifically designed for your puppy's developing mind and body.

The first two years of your puppy's life are a crucial time in his or her development. By teaching your puppy early and using positive reinforcement methods, you will instill in him or her a cooperative spirit and a lifetime love of learning. Instead of focusing on curbing bad behaviors, this guide will help you establish a lifetime bond with your puppy as you teach skills ranging from beginner ("come," "stay") tomore advanced ("tidy up toys into a box,"fetch the newspaper").

Positive reinforcement methods are the fastest and easiest way to teach a puppy. These anxiety-free methods produce a joyful puppy who is a willing partner in the learning process. Trick training builds relationships by deepening communication pathways, trust, and mutual respect. It offers a way to bond with your puppy as you strive toward common goals and delight in your successes. The trust and cooperative spirit developed through this process will last a lifetime.

Step-by-step instruction guides you through the simple steps of teaching a trick. Troubleshooting ideas and tips provide solutions to common real-world challenges. Photos of every step of the training process show you exactly what to do and take the guesswork out of teaching.

The chapters cover:
Preliminary Skills: respond to a clicker, kennel up, find me, and more.
Body Positions: sit, down, crawl, roll over, kisses, and more.
Coordination: tunnel, teeter board, hoop jump, flying disc, and more.
Communication: ring a bell to go outside, leave it, sit before chowtime, and more.
Shape Behavior: fetch, open the door, hide your eyes, and more.
Chaining: litter in the step can, soda from the fridge, mail from the mailbox, and more.
An appendix lists the tricks by skill level so you can find the just the right tricks to teach your puppy. A glossary of terms ensures you'll know exactly what is being discussed.

Bond with your puppy as he or she gains confidence and learns amazing new skills with 51 Puppy Tricks!

Also by Kyra Sundance, learn to do even more with your dog with: 101 Dog Tricks; The Dog Tricks and Training Workbook; 10-Minute Dog Training Games; 101 Dog Tricks, Kids Edition; Dog Training 101; The Pocket Guide to Dog Tricks; Kyra's Canine Conditioning; and The Joy of Dog Training.
About the Author
---
Kyra Sundance is a world-renowned dog trainer, lecturer, and internationally best-selling author of 101 Dog Tricks: Step by Step Activities to Engage, Challenge and Bond with Your Dog. With over a million copies in print, Kyra's award-winning books, kits, and DVDs have inspired dog owners worldwide to develop fun and rewarding relationships with their dogs. Her other books include Dog Training 101, The Joy of Dog Training, The Dog Tricks and Training Workbook, Kyra's Canine Conditioning, 51 Puppy Tricks, 10-Minute Dog Training Games, The Pocket Guide to Dog Tricks, and 101 Dog Tricks, Kids Edition.
Honed through decades of professional experience, Kyra's easy step-by-step training methods are the most effective and humane way to train. Her positive methods foster confident, happy dogs who are motivated to do the right thing, rather than fearful of making a mistake.
As professional performers, Kyra and her Weimaraners starred in shows for the king of Morocco, Disney's Hollywood stage shows, circuses, NBA halftime shows, on The Tonight Show, Ellen, Animal Planet, in movies, and in their own television series. Kyra is a professional set trainer for movie dogs, and is nationally ranked in competitive dog sports. She presents workshops around the world on dog tricks and canine conditioning.
Kyra is CEO of "Do More With Your Dog!" trick dog titling organization; the "National Trick Dog championships"; and Chair of the "Trick Dog Expo."
Kyra lives in Lancaster, California.