Tears for Crocodilia: Evolution, Ecology, and the Disappearance of One of the World's Most Ancient Animals (Hardcover)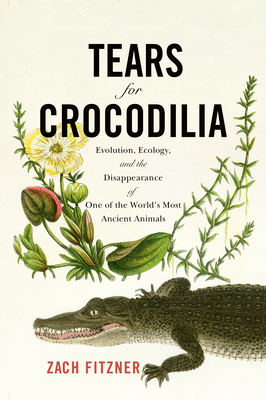 List Price: $30.00
Our Price: $25.50
(Save: $4.50 15%)
Warehouse, In Stock | Usually Ships in 1-5 Days | New
Description
---
Seventy million years ago in what would become North America, a monstrous thirty-five-foot-long Cretaceous crocodile lurked on a marshy riverbank. Springing suddenly, its huge jaws trapped and crushed a juvenile hadrosaur. Today, the remains of that ancient crocodile are being painstakingly reconstructed in Colorado, where naturalist Zach Fitzner continues his life-long fascination with this amazing animal family. 
In Tears for Crocodilia: Evolution, Ecology, and the Disappearance of One of the World's Most Ancient Animals, Fitzner tracks the evolution of crocodilians from prehistoric predators to modern endangered wildlife, using his own experiences with these reptiles as a lens to understanding wildlife conservation and our relationship with the natural world. Traveling the world to interact with crocodiles, from observing alligators in a wildlife refuge in Texas and paddling a canoe in the Everglades searching for crocodiles to trekking the jungles in Nepal to find endangered gharials, the author expresses a wonder in exploring these diverse ecosystems, making a connection between crocodilians and the lands they live in. As the story follows crocodilians, it also illuminates their often complicated relationship with humans, from crocodile cults in ancient Egypt to American alligators living on golf courses. Fitzner also closely examines the dark side of this relationship, including habitat destruction and poaching as well as the mechanistic view of traditional conservation that turns these magnificent animals into agricultural products. Tears for Crocodilia delves deeply into issues of wildlife conservation, ethics, and how we can coexist with other creatures. It is also a tribute to a magnificent group of animals, survivors from the age of dinosaurs. 
About the Author
---
Zach Fitzner studied biology at Colorado Mesa University and currently works in commercial paleontology and museum exhibits at Gaston Design. He has interned and volunteered with conservation groups around the world, and his writing has appeared in Mongabay, earth.com, and other publications. Zach lives with his wife, Erin, and two dogs in Colorado. 
Praise For…
---
"Fitzner intersperses his clear and compelling scientific passages with memorable anecdotes from his world travels, adding photographic examples—many taken by Fitzner himself—to illustrate key points throughout. This text effectively combines aspects of popular science writing with travel literature in a manner that makes for an easy but educational read. The list of illustrations is almost as informative as the thorough bibliography and index. The book will appeal to a broad readership of scientists, conservationists, and animal lovers. Highly recommended. All readers."—Choice

"Tears for Crocodilia is a fascinating and compassionate exploration of the natural and cultural history and conservation and ethics surrounding this ancient and powerful lineage of reptiles. As a naturalist, Zach Fitzner explores these and other topics not only through references to scientific literature, but also through an engaging firsthand narrative. This balance of information and entertainment make the book a delight to read without sacrificing any rigor.Tears for Crocodilia is an invocation for all endangered species and it is refreshing to see that Fitzner also asks important questions about whether mainstream conservation is adequate to provide for the survival of these amazing sentient nonhuman beings."—Marc Bekoff, cofounder of Ethologists for the Ethical Treatment of Animals, and author of Unleashing Your Dog: A Field Guide to Giving Your Canine Companion the Best Life Possible and A Dog's World: Imagining the Lives of Dogs in a World Without Humans, both with Jessica Pierce

"From a fossil preparatory in Tucson, Arizona, to the subtropical forests and wetlands of Nepal, Zach Fitzner takes us on a journey of appreciation of the ancient giants that were, and the endangered species that remain, vital organisms in Earth's fragile ecosystems. This book is a challenge to all of us who cherish the diversity of our planet and want to save these awesome creatures from extinction."—Peter L. Larson, Paleontologist and President, Black Hills Institute of Geological Research, discoverers of the Tyrannosaurus rex​ fossil, "Sue"