Zendegi (Paperback)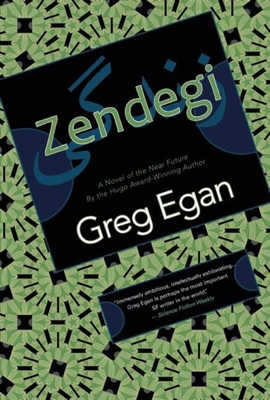 List Price: $14.99
Our Price: $14.24
(Save: $0.75 5%)
Description
---
In the near future, journalist Martin Seymour travels to Iran to cover the parliamentary elections. Most would-be opposition candidates are disqualified and the election becomes the non-event the world expects. But shortly afterward a compromising image of a government official captured on a mobile phone triggers a revolutionary movement that overthrows the old theocracy. Nasim Golestani, a young Iranian scientist living in exile in the United States, is hoping to work on the Human Connectome Project — which aims to construct a detailed map of the wiring of the human brain — but when government funding for the project is canceled and a chance comes to return to her homeland, she chooses to head back to Iran.
Fifteen years after the revolution, Martin is living in Iran with his wife and young son, while Nasim is in charge of the virtual world known as Zendegi, used by millions of people for entertainment and business. When Zendegi comes under threat from powerful competitors, Nasim draws on her old skills, and data from the now-completed Human Connectome Project, to embark on a program to create more lifelike virtual characters and give the company an unbeatable edge. As controversy grows over the nature and rights of these software characters, tragedy strikes Martin's family. Martin turns to Nasim, seeking a solution that no one else can offer... but Zendegi is about to become a battlefield.

Skyhorse Publishing, under our Night Shade and Talos imprints, is proud to publish a broad range of titles for readers interested in science fiction (space opera, time travel, hard SF, alien invasion, near-future dystopia), fantasy (grimdark, sword and sorcery, contemporary urban fantasy, steampunk, alternative history), and horror (zombies, vampires, and the occult and supernatural), and much more. While not every title we publish becomes a New York Times bestseller, a national bestseller, or a Hugo or Nebula award-winner, we are committed to publishing quality books from a diverse group of authors.
About the Author
---
Greg Egan is a computer programmer and the author of the acclaimed SF novels Permutation City, Diaspora, Teranesia, and Quarantine, and the Orthogonal trilogy, all published by Night Shade Books. He has won the Hugo Award and the John W. Campbell Memorial Award. Egan's short fiction has been published in a variety of places, including Interzone, Asimov's, and Nature. He lives in Australia.