Spirit in Session: Working with Your Client's Spirituality (and Your Own) in Psychotherapy (Spirituality and Mental Health) (Paperback)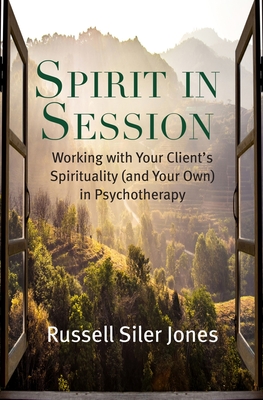 List Price: $19.95
Our Price: $18.95
(Save: $1.00 5%)
Warehouse, In Stock | Usually Ships in 1-5 Days | New
Description
---
Spirituality is an important part of many clients' lives. It can be a resource for stabilization, healing, and growth. It can also be the cause of struggle and even harm. More and more therapists—those who consider themselves spiritual and those who do not—recognize the value of addressing spirituality in therapy and increasing their skill for engaging it ethically and effectively.

In this immensely practical book, Russell Siler Jones helps therapists feel more competent and confident about having spiritual conversations with clients. With a refreshing, down-to-earth style, he describes how to recognize the diverse explicit and implicit ways spirituality can appear in psychotherapy, how to assess the impact spirituality is having on clients, how to make interventions to maximize its healthy impact and lessen its unhealthy impact, and how therapists can draw upon their own spirituality in ethical and skillful ways. He includes extended case studies and clinical dialogue so readers can hear how spirituality becomes part of case conceptualization and what spiritual conversation actually sounds like in psychotherapy.

Jones has been a therapist for nearly 30 years and has trained therapists in the use of spirituality for over a decade. He writes about a complex topic with an elegant simplicity and provides how-to advice in a way that encourages therapists to find their own way to apply it.

Spirit in Session is a pragmatic guide that therapists will turn to again and again as they engage their clients in one of the most meaningful and consequential dimensions of human experience.
 
About the Author
---
Russell Siler Jones, ThD, is director of the Residency in Psychotherapy and Spirituality at CareNet/Wake Forest Baptist Medical Center in Winston-Salem, North Carolina and a psychotherapist in private practice in Asheville, North Carolina. He and his wife, Jeanine, live in Asheville and are parents of two adult children.
 
Praise For…
---
"Jones has a gift for breaking complex theories and processes into simpler steps or components….many may find [Spirit in Session] an enjoyable read, offering a reaffirming, strengthening, and enriching perspective, as this reviewer did."
—Journal of Pastoral Care & Counseling 

"Spirit in Session is full of heart and has a strong ethical sense throughout. I would wholeheartedly recommend this book; it feels like essential reading in the field of spirituality and therapy."
—Thresholds, journal of the British Association of Counseling and Psychotherapy
"This book is widely applicable and provides a helpful framework for addressing the topic of spirituality as it relates to psychotherapy....As a recently licensed therapist, reading this book has been a tremendous help in beginning my journey as a helper." ​—
Journal of Marital and Family Therapy
"[A] clear, readable, ethical, and practical guidebook for what it looks like to practice as a spiritually integrated psychotherapist today....Wonderfully interfaith....I suspect that Jones's basic orientation and guiding principles could apply equally to religious professionals and mental health professionals."
—
Reflective Practice
"A real gem!  Remarkably accessible, this book makes the spiritual dimension of therapy come alive. Jones is a masterful educator and clinician who skillfully leads the reader through the meanings and methods of spiritually integrated psychotherapy.  His wisdom, warmth, humor, openness, faithfulness, and humanity fairly radiate from each page."—Kenneth I. Pargament, PhD, professor of psychology, Bowling Green State University, author of Spiritually Integrated Psychotherapy: Understanding and Addressing the Sacred
"In this beautifully written book, Russell Siler Jones offers practical advice to therapists on virtually every aspect of bringing spiritual discussions into their offices."—Richard C. Schwartz, PhD, founding developer of the Internal Family Systems model of psychotherapy
"This eminently readable, compelling, and inspiring book takes readers—heart, mind, and soul—into what actually happens in spiritually oriented therapy conversations. Russell Jones is a compassionate, committed, and elegantly simple mentor for therapists who want to help clients draw upon their spirituality in life-giving ways. Spirit in Session deserves to be a required textbook in every 'Intro to Therapy' course."—Carrie Doehring, PhD, professor of pastoral care and counseling, Iliff School of Theology, author of The Practice of Pastoral Care: A Postmodern Approach
"An outstanding handbook for teaching. Russell Jones's exceptional mastery of both psychotherapy and spiritual inquiry guides therapists and their clients to discover spiritual encounters within the everydayness of routine psychotherapy sessions."—James L. Griffith, MD, Leon M. Yochelson Professor and Chair, GWU School of Medicine and Health Sciences, author Religion that Heals, Religion that Harms
"A creative, warm, clinically-relevant look at how spirituality can inform the life and work of a psychotherapist."—Mark R McMinn PhD, professor and director of faith integration, Graduate School of Clinical Psychology, George Fox University, author of The Science of Virtue
"What makes Spirit in Session so distinctive and laudable is Jones's consideration of the therapist's own spirituality and spiritual countertransference, and how these can be ethically and effectively utilized in therapy. He does this in a conversational, relational, and humorous style that beginning and seasoned therapists alike will relish....Reading it was like taking a psychospiritual retreat."—Rev. Jill L. Snodgrass, PhD, associate professor, Department of Pastoral Counseling and Spiritual Care, Loyola College of Arts and Sciences, co-editor of Understanding Pastoral Counseling
"I recommend the book for all psychotherapists, but especially those who wish to gain more insight into how to honor in sensitive and competent ways the resources of their clients' spirituality."—P. Scott Richards, PhD, past president of APA's Society for the Psychology of Religion and Spirituality, co-author of A Spiritual Strategy for Counseling and Psychotherapy
"For anyone whose professional work involves addressing the spiritual needs of clients or patients—from board certified chaplains to other healthcare providers who wish to feel more confident in their conversations about meaning, purpose, and quality of life (in a word, spirituality)—this book is a great resource."—Rev. Amy Greene, DMin, director of spiritual care, Cleveland Clinic
"The book is perfect for professionals and students alike who are interested in being more mindful and embracing of spirituality, broadly defined, in counseling activities with diverse clients. I am grateful for it and will happily encourage others to read it."—Thomas G. Plante, PhD, ABPP, Augustin Cardinal Bea, S.J. University Professor, Santa Clara University, adjunct clinical professor of psychiatry, Stanford University School of Medicine, author of Spiritual Practices in Psychotherapy
"Move this book to the top of your 'to be read' stack. It will fill you with the courage and confidence to explore spirituality and religion with clients and perhaps even to pursue your own at a deeper level." —Bryan E. Robinson, PhD, author of #CHILL: Turn Off Your Job and Turn On Your Life
"A must read for new and experienced clinicians alike who want to master the art of integrating spirituality into the therapeutic process."—Craig S. Cashwell, PhD, Chair, Department of Counseling and Educational Development, University of North Carolina Greensboro, co-editor of Integrating Spirituality and Religion into Counseling
"This is a wonderful book. Russell Siler Jones, master therapist and gifted writer…reminds us that the road to sacred conversation is paved with humility, tenderness, respect, and courage."—Toni Herbine-Blank, MS, RN, author of Intimacy from the Inside Out: Compassion and Courage in Couple Therapy
"[A] clearly written, helpful, open-minded, and respectful approach to working with the spirituality, broadly defined, of clients as well as of the therapist. Both implicit and explicit ways of sensitively and effectively doing this are covered. Highly recommend!"—Siang-Yang Tan, PhD, professor of psychology, Fuller Theological Seminary, author of Counseling and Psychotherapy: A Christian Perspective
"Russell Siler Jones makes the enterprise of spiritual conversation in psychotherapy accessible.  His approach is practical and yet illuminating, offering guidance for experienced clinicians as well as for clinicians who may just be dipping a toe into their clients' spirituality. And his voice is so warm, inviting, and encouraging that the reader will feel on much more solid ground engaging the spiritual lives of his or her clients."—Eileen M. Russell, PhD, senior faculty, AEDP Institute, author of Restoring Resilience
"[A] fresh, unique perspective on the process of ethically integrating clients' religion/spirituality into clinical practice...The rich case examples woven throughout help make this book relatable for mental and behavioral health practitioners at any level – whether you are just starting your journey as a therapist or have been in practice for decades."—Holly K. Oxhandler, PhD, LMSW, assistant professor and associate dean for research & faculty development, Baylor University
"Russell Siler Jones is a skilled clinician whose wisdom and understanding come through in this beautifully written, sensitive, and practical book….This text is dynamic, thoughtful, and case-based in its multiple approaches to working with the spiritual experiences clients' and therapists have…[It] is a must read for all helping professionals."—Samuel T. Gladding, PhD, professor of counseling, Wake Forest University, author of Counseling: A Comprehensive Profession
"A widely accessible and adaptable professional resource for understanding spirituality in therapeutic settings.  It belongs on the shelves of pastoral care workers and therapists working with clients because, as the author reminds us, all people are spiritual."—Jennifer Ripley, PhD, professor of psychology and Hughes Endowed Chair, Regent University
"[An] excellent resource for clinicians to increase their comfort with—and competence in using—spirituality in clinical practice. Engaging and well-written."—Kevin A. Harris, PhD, LP, HSP, assistant professor of psychology, Our Lady of the Lake University