Pocket Neighborhoods: Creating Small-Scale Community in a Large-Scale World (Hardcover)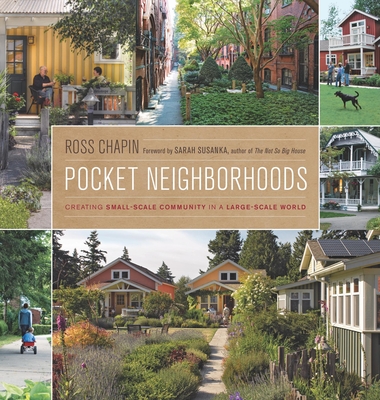 List Price: $34.95
Our Price: $29.71
(Save: $5.24 15%)
Warehouse, In Stock | Usually Ships in 1-5 Days | New
Description
---
A 2012 Nautilus Silver Award Winner
Pocket Neighborhoods: Creating Small Scale Community in a Large Scale World introduces an antidote to faceless, placeless sprawl -- small scale neighborhoods where people can easily know one another, where empty nesters and single householders with far-flung families can find friendship or a helping hand nearby, and where children can have shirt-tail aunties and uncles just beyond their front gate.
The book describes inspiring pocket neighborhoods through stories of the people who live there, as well as the progressive planners, innovative architects, pioneering developers, craftspeople and gardeners who helped create them.
Sarah Susanka, author of the best selling Not So Big House series, wrote the Foreword to the book, placing pocket neighborhoods within context of the contemporary trends in housing and community. Ross Chapin begins the book by outlining the shifts in the scale of community and the American Dream over several generations, leading to super-sized houses in a sea of development, then describes a solution to help restore healthy, livable communities. The first section of the book looks at historic precedents of pocket neighborhoods. The second section covers a wide range of contemporary pocket neighborhoods, including New Urban communities, affordable housing, houseboat communities, eco-neighborhoods, and Ross Chapin Architects' own pocket neighborhood examples. The third section focuses on 'cohousing' communities, from Danish origins in the 1960s, to examples across America, Australia and New Zealand, including a chapter on senior cohousing. The fourth section looks at retrofitting pocket neighborhoods within existing communities.
Throughout the book are series of "Design Keys" that highlight the essential principles of pocket neighborhood planning and design, and short stories about "Pocket Neighborhood Pioneers" who blazed new trails. The book is filled with rich photographs, drawings, illustrations and site plans, and a Resources section at the end provides leads for the reader to explore the topic in further detail.
About the Author
---
Ross Chapin, AIA, is the principal of Ross Chapin Architects, located on Whidbey Island, north of Seattle. He has focused on "sensibly sized" custom residences, "pocket neighborhood" developments, and mixed-use projects since 1982. His partnerships with developers, city planners, and builders have created innovative housing and neighborhood prototypes that have received significant national attention and are shifting the way we think about our homes and communities. His projects have won numerous design awards, including the 2005, 2007, and 2009 AIA Housing awards, and have been published in "Architectural Record," " Builder magazine," " The New York Times," " Boston Globe," " Fine Homebuilding," "Metropolitan Home," " This Old House," " Sunset," ""and more than 25 books, including "Creating the Not So Big House," " Home By Design," " Patterns of Home," " The Good Green Home," " The New Cottage Home," ""and" Blueprint Small. "Ross lectures on housing at conferences and universities throughout the country. Visit his website at www.rosschapin.com.
Praise For…
---
Anyone who's looking for a way to live both simply and beautifully will love Ross Chapin's notions about creating community. If you've enjoyed the "Not So Big House" series, you'll also love this book.—SARAH SUSANKA, author of The Not So Big HouseRoss Chapin possesses a Christopher Alexander-like ability to show how all the pieces of a house and a neighborhood can fit together, composing a profoundly satisfying environment.
—PHILIP LANGDON, author, A Better Place to Live: Reshaping the American Suburb, and editor of New Urban NewsThe phrase "think globally, act locally" takes on new meaning in this book, which shows what is possible when residents in close proximity share a commitment to community.  "Pocket Neighborhoods" includes an extensive list of resources and organizations related to urban design and eco-friendly neighborhoods, but this is not a how-to book. It is information and inspiration, a timely discussion as regions grapple with housing density and look for ways to build a sense of community along with every new house, apartment and condo. --Jeffrey Head, LOS ANGELES TIMESThis revolutionary book will change the way North Americans view new home developments and will help home buyers realize that community is often as important as the house.—TORONTO STARAfter decades of living large — mini-mansions in sprawling subdivisions the size of cities — some Americans are retrenching and showing a new appreciation for small, cozy and neighborly. Architect Ross Chapin has coined a term for these new compact communities: pocket neighborhoods. His new book — Pocket Neighborhoods, Creating Small-Scale Community in a Large-Scale World— documents a surprisingly broad array of such developments across the USA, from urban neighborhoods to suburban and rural areas.—USA TODAYSuperb and sublime — Ross Chapin has described the future of neighborhood-making with his book, Pocket Neighborhoods.
—CHARLES DURRETT, architect, author of Cohousing: A Contemporary Approach to Housing OurselvesRoss Chapin and his development partners in the Pacific Northwest set the standards for beautifully designed and beautifully crafted cottage neighborhoods. Now comes Ross's long-awaited book explaining why and how these neighborhoods work. It's a manual for right-sizing community in America's 21st century.
—BEN BROWN, Principal, PlacemakersRoss Chapin's book, Pocket Neighborhoods, skillfully illustrates numerous success stories showing how to transform individual homes and gardens into a community. As homes get smaller, connection to the public realm has never been more important. This book is a great read for anyone looking for housing solutions that will stand the test of time.—MARIANNE CUSATO, Designer of the Katrina Cottages & The New Economy HomeRoss Chapin is a master in understanding the importance of 'scale' in creating beautiful and humane communities. His new book is a profound manual of what works to create vibrant pocket communities—essential components of a sustainable future.
—JASON F. MCLENNAN, CEO Cascadia Green Building CouncilMy own instinct is that Ross's work is just what our culture is hungering for right now—a viable way to make life vivid, personal and deeply satisfying, and a sustainable alternative to spread-out suburban sprawl.—ROBERT WALSH, architect, educatorAfter 30 years as a building developer, I met Ross Chapin. His articulate guidance about how we live together permanently changed how I create places for people to live. With Pocket Neighborhoods, Ross shares his wisdom of how truly wonderful neighborhoods can and should be. This book has come none too soon for every one of us.
—MICHAEL MCKEEL, developerBuilding a neighborhood is about having a vision and understanding how all the pieces and layers fit together. Skipping over a key detail or two is the difference between a subdivision and a neighborhood. Ross Chapin understands these details and his Pocket Neighborhoods book will give you that understanding too.
—M. CASEY LAND, developer