Cointelshow: A Patriot Act (PM Pamphlet) (Pamphlet)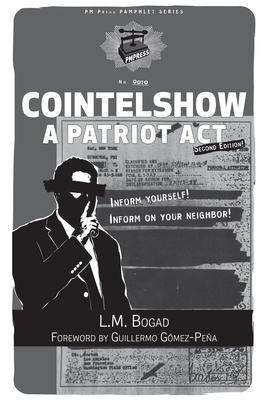 List Price: $6.95
Our Price: $5.91
(Save: $1.04 15%)
Warehouse, In Stock | Usually Ships in 1-5 Days | New
Description
---
These are our tax dollars at work, folks; we might as well enjoy it.

This script has been performed by writer/activist L.M. Bogad in theatres, galleries, labor halls, and community centers for the past twenty years. The pamphlet also includes a foreword by Guillermo Gómez-Peña, a companion essay by Bogad about the history of domestic surveillance/harassment, and a "how to" for would-be performers of the script.

Back by popular demand, this new Second Edition adds photos of the original COINTELPRO documents used in the show. There are also many updates to the script: more information, more character development, and more and better jokes, all in the darkly humorous style of the original.
About the Author
---
Lawrence Bogad works on the intersection between art and activism, and on the role of humor and imagination in organizing social movements. His book, Electoral Guerrilla Theatre: Radical Ridicule and Social Movements (Routledge 2005), is an international study of performance artists who run for public office as a prank.
Bogad's produced plays have covered topics such as the Haymarket Square Confrontation, the FBI's COINTELPRO activities, the Pinochet coup in Chile, and global climate chaos. He is a veteran of the Lincoln Center Theatre Director's Laboratory, and a cofounder of the Clandestine Insurgent Rebel Clown Army. Bogad was a lead writer/editor-in-mischief on two Yes Men prank newspaper projects that garnered international attention. These "special editions" of the International Herald Tribune and the New York Post were attempts to draw greater public attention to the Copenhagen Climate Summit and the larger issues of climate change. Bogad has been a commentator on political performance for Air America, NPR, Pacifica, Peace Radio, and other radio stations and programs.
Praise For…
---
"This play is important for activists and apathetics, clergymen and clerks, artists and engineers…all of us, because we all have good reason to ask "Who Watches the Watchmen?" As Bogad makes all too clear, it will have to be us." —The Yes Men (Andy Bichlbaum and Mike Bonanno)

"The Left can also laugh, even at the worst of circumstances... audiences will chuckle along as they engage with this creative teach-in/manifesto on how to challenge, subvert, and educate ourselves about our country's ever-growing 'Patriot Acts.'" —Benjamin Shepard, PhD, author of Queer Political Performance and Protest: Play, Pleasure and Social Movements