The Absolute Realist: Collected Writings of Albert Renger-Patzsch, 1923–1967 (Paperback)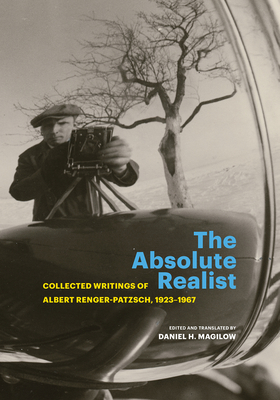 $60.00

Warehouse, In Stock | Usually Ships in 1-5 Days | New
Description
---
This annotated anthology presents the first English translation of German photographer Albert Renger-Patzsch's collected writings.
 
A towering figure in the history of photography, Albert Renger-Patzsch (1897–1966) has come to epitomize New Objectivity, the neorealist movement in modernist literature, film, and the visual arts recognized as the signature artistic style of Germany's Weimar Republic. Today, his images are regularly exhibited and widely considered key influences on contemporary photographers. Whether they capture geometrically intricate cacti, flooded tidal landscapes, stacks of raw materials, or imposing blast furnace towers, Renger-Patzsch's photographs embody what his peer Hugo Sieker termed "absolute realism," an approach predicated upon the idea that photographers have one task: to exploit the camera's unique capacity to document with uncompromising detail.
 
Not only a photographer, Renger-Patzsch was also an influential and lucid writer who advocated his unique brand of uncompromising realism in almost a half century's worth of articles, essays, lectures, brochures, and unpublished manuscripts addressing photography, technology, and modernity. Drawing on his papers at the Getty Research Institute and other archives, The Absolute Realist unites in one volume this skillful photographer's ideas about the defining visual medium of modernity.
About the Author
---
Daniel H. Magilow is professor of German at the University of Tennessee, Knoxville.
Praise For…
---
"Daniel H. Magilow's careful translation and thorough annotation of Albert Renger-Patzsch's writings offer an invaluable invitation: For the very first time, we can discover one of the most influential photographers of the modern era as an eminent theorist and attentive critic. This excellent edition will undoubtedly advance our interest in a period when the art of photography became not just a subject for professionals but an affair for countless amateurs." 
—Steffen Siegel, editor of 
First Exposures: Writings from the Beginning of Photography
"Albert Renger-Patzsch has long been known as a giant of early twentieth-century photography. Thanks to Daniel Magilow's deft editing and translations, an English-speaking public can now learn what a savvy critic and theorist of photography he was as well."
—Pepper Stetler, author of Stop Reading! Look!: Modern Vision and the Weimar Photographic Book
"Daniel H. Magilow brings both a wealth of knowledge and precision to The Absolute Realist—qualities that Albert Renger-Patzsch himself prized. In addition to his astute translations, Magilow offers a fresh and nuanced reading of the photographer's most prominent years. He underscores the tension between consistency and breadth across almost a half century of thought in ways that make this collection of the German modernist's writings especially relevant for readers today."
—Matthew S. Witkovsky, Sandor Chair and Curator of Photography, Art Institute of Chicago
"As the first complete collection of Albert Renger-Patzsch's writings, The Absolute Realist brings one of the twentieth century's most significant photographers into focus as a writer and theorist. Gorgeously illustrated with Renger-Patzsch's photographs—which are by turns hauntingly beautiful, sublime, and downright funny—Daniel H. Magilow's crisp translations and insightful commentary shed new light on Renger-Patzsch's life and work during Germany's most tumultuous decades."
—Elizabeth Otto, Professor of Art History, University at Buffalo (SUNY)
"For photography lovers as well as researchers, The Absolute Realist: Collected Writings of Albert Renger-Patzsch, 1923–1967, edited and translated by Daniel H. Magilow, is undoubtedly a valuable addition to the bookshelf. Magilow's sensitive translation and knowledgeable scholarly introduction allow rare insight into the German photographer's work and thought during the explosive period of National Socialism, and ultimately make for an exceptionally exciting read. Highly recommended."
—Gabriele Conrath-Scholl, Director, Die Photographische Sammlung/SK Stiftung Kultur, Cologne