Cognitive-Behavioral Strategies in Crisis Intervention (Paperback)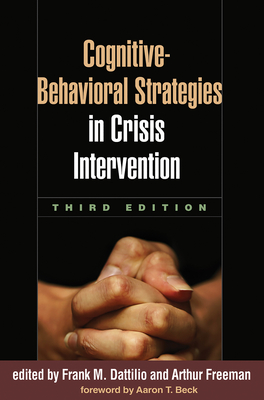 $67.85
This item is backordered and not currently available. Please contact us for an estimated availability date.
Description
---
This invaluable practitioner guide and text shows how cognitive-behavioral interventions can help people weather situations of extreme stress and build needed skills for the future. Leading authorities describe effective, time-efficient approaches to managing different types of crises: those related to particular psychological problems, such as panic disorder, suicidal depression, and personality disorders; medical crises; child and family crises; and environmental and situational crises, including large-scale traumatic events. Vivid case material illustrates what the interventions look like in action and how to tailor them to individual clients' needs.
About the Author
---
Frank M. Dattilio, PhD, ABPP, holds faculty positions with the Department of Psychiatry at Harvard Medical School and the University of Pennsylvania School of Medicine. He is also in the private practice of clinical and forensic psychology and marital and family therapy in Allentown, Pennsylvania. With more than 280 professional publications in the areas of couple and family problems, anxiety and behavioral disorders, and forensic and clinical psychology, Dr. Dattilio has presented extensively on CBT throughout the world. His works have been translated into more than 30 languages and are used in over 80 countries. He serves on the editorial boards of a number of professional journals, including the Journal of Marital and Family Therapy and Contemporary Family Therapy. Dr. Dattilio is a recipient of numerous awards for outstanding achievement in the fields of psychology and psychotherapy, including, most recently, the MFT of the Year Award from the Pennsylvania Association for Marriage and Family Therapy and the Outstanding Contribution to Marriage and Family Therapy Award from the American Association for Marriage and Family Therapy.

Arthur Freeman, EdD, LLD (h.c.), ABPP, until his death in 2020, was Professor Emeritus of Psychology at the Philadelphia College of Osteopathic Medicine. A leading expert on cognitive-behavioral therapy, he was a past president of the Association for Behavioral and Cognitive Therapies and of the International Association for Cognitive Psychotherapy, and a Distinguished Founding Fellow of the Academy of Cognitive and Behavioral Therapies. Dr. Freeman's research and clinical interests included marital and family therapy and cognitive-behavioral treatment of depression, anxiety, and personality disorders. The author of over 100 chapters and articles, he lectured in 45 countries and his work has been translated into 20 languages.
Praise For…
---
"Dattilio and Freeman have included the most common themes in crisis intervention, describing techniques and strategies that are short term and time effective. The volume is a 'must read' for everyone from dedicated crisis workers and private practitioners to clinical researchers. Students and seasoned professionals alike will find practical and invaluable information within these pages. It is an unfortunate estimate that 70% of us will undergo a traumatic event in our lifetimes, and this masterful volume addresses the immediate needs of trauma survivors."--Barbara Olasov Rothbaum, PhD, ABPP, Professor of Psychiatry and Director, Emory Healthcare Veterans Program and Trauma Anxiety Recovery Program, Emory University School of Medicine "The third edition of this outstanding resource expands the scope of the earlier volumes while maintaining the high quality of the contributions. The editors are uniquely well qualified to provide an authoritative perspective on crisis intervention, and their recognized expertise in cognitive-behavioral treatment underscores the relevance of this volume to the field. Once again, this edition will provide graduate students and professionals with the latest, most effective intervention approaches. A special strength of the book is its expanded coverage of large-scale traumatic events such as terrorist attacks and devastating natural disasters."--James Neal Butcher, PhD, Department of Psychology (Emeritus), University of Minnesota "An international group of outstanding authors have crafted a remarkably useful guide to understanding traumatic experiences and using practical cognitive-behavioral strategies to help crisis victims. Methods for responding to diverse types of crises are clearly explained and illustrated. The chapters on disaster trauma and terrorism provide especially relevant guides to coping with some of the most troubling issues of our times. The case report of a 9/11 survivor is in itself a compelling reason to read this book."--Jesse H. Wright, MD, PhD, Professor and Kolb Endowed Chair of Outpatient Psychiatry and Director, Depression Center, University of Louisville "This excellent text offers effective treatment approaches for a variety of mental health problems and crises. Filled with practical case examples, the volume covers specific cognitive-behavioral techniques for both assessment and treatment, making it an essential resource for students and experienced mental health professionals alike."--Christopher G. Mitchell, PhD, Jane Addams College of Social Work, University of Illinois at Chicago "I know of no better introduction to crisis intervention founded on empirically supported approaches to treatment. Cognitive-behavioral therapies represent the state of the art of crisis intervention services, and a superb array of authors have contributed chapters to this impressive third edition. All psychotherapists serving clients in crisis will find this book most useful and comprehensive. It would be a great text for the crisis intervention class we offer our second-year clinical MSW students."--Bruce A. Thyer, PhD, College of Social Work, Florida State University

"The book is broad enough and deep enough to cover two audiences well. For those who are specifically involved as crisis intervention workers on an, individual, organizational, or community level, the text's expertise will undoubtedly be a resource for some time to come. For the private practitioner the text is not only an expert review of the fundamentals for general stress/trauma theory and intervention, but an invaluable resource to have on the shelf when looking for a reference and guidance on a specific type of crisis. Common and uncommon crises for which the text can be a resource include: Impulsive and dangerous behaviors, acute trauma, medical crisis, marital abuse, childhood abuse, suicide, or on a family or even community level, such as marital separation, school bullying/violence, and natural or man-made disasters. Even if one chooses not to be involved as a crisis intervention worker, this text should be required reading. Every clinician will have to face the inevitable common crises in the lives of average adults and children, not to mention being prepared for the increasingly interesting times into which we seem to be moving."
— Cognitive Behavioral Therapy Book Reviews