Luna Loves Library Day (Hardcover)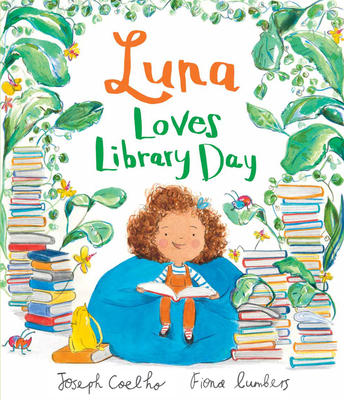 List Price: $12.99
Our Price: $9.95
(Save: $3.04 23%)
Description
---
Luna's parents live apart, but she loves library day: that's the day she spends with her dad. Exploring the shelves, they find magic, mystery and history, but the best is a book that seems to have been written just for them.

An inspiring story of a family broken and made new...
Praise For…
---
"I love Luna. These are 1000% books I wish I knew about when my kids were younger. They beautifully tackle more difficult topics such as divorce, loneliness, and perfectionism in a really child friendly way. ... The Luna Series would make for the most perfect gifts for the young people in your life."
-- Kids Lit is Lit

"Along with stoking a child's creativity and imagination, children's books are great for helping them cope with difficult situations and emotions. 'Luna Loves Library Day' is an awesome, tear-jerking book-within-a-book that will get any kid excited about their next trip to the library, but also has a special message for kids dealing with divorce and separation."
-- Nanny Miss Monique

"A comforting read for any child whose parents are separated, and a good one to discuss that not all families are the same."
-- Little Cub Literacy

"Luna loves library day because of the stories AND because that's her special visitation time with her father now that her parents aren't together. I absolutely loved the layers in here from Luna's father being a healthy role model for her and always found reading himself to the very normal dynamics of a family with separated parents being highlighted."
-- Kids Lit is Lit

"This simple story of often familiar circumstances has many pluses-seemingly amicable separated parents who love their daughter, the story within a story, a plug for libraries (there's even a self-checkout) and reading-all of which generate an upbeat feeling. Reassuring, appealing, and endearing, especially for children in similar situations." -- Kirkus Reviews

A celebration of libraries, families, and a powerful comforting statement of abiding parental love in one neat package." -- School Library Journal

"Coelho's spare text celebrates the joys of reading and family. … Lumbers' upbeat watercolor-and-ink illustrations feature many fanciful details… This makes a good read-aloud choice, especially for book-themed story hours." -- Booklist

"This is a sweet, upbeat story about a tough situation. Many students will be able to make a connection and it allows a teacher or counselor to address a difficult topic." -- NC Teacher Stuff

"…a charming and inspiring story… highly recommended for family, daycare center, preschool, elementary school, and community library collections for children ages 3 to 5." -- Midwest Book Review

"Although Luna's dad no longer lives with Luna and her mom, it's clear he still loves Luna very much. The illustrations show each book coming to life as Luna and her dad read, and the library (complete with self-checkout) is realistically contemporary. Luna is biracial (Black/white)." -- CCBC Choices 2018, "Picture Books for School-Age Children"

"Luna's parents live apart. On library day, her mom drops her off to meet her dad. She and her dad look at books and read books and play. Luna loves library day. There's a sweetness in Luna's family situation as well as a playfulness around books that makes this a jewel of a book that shows a mixed race family. Love, love, love." -- Imagination Soup, "60 Multicultural Children's Picture Books with Diverse Main Characters"