Immersion: The Science and Mystery of Freshwater Mussels (Hardcover)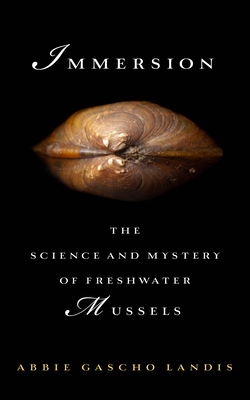 $38.40
This item is backordered and not currently available. Please contact us for an estimated availability date.
Description
---
"This is nature writing at its best." —E.O. Wilson

"Eloquent treatise...Landis's book is as much call to action as paean to mesmerizing molluscs." —Nature

"Rich, accurate, and moving." —New Scientist

"A lyrical love letter to the imperiled freshwater mussel." —Science

Abbie Gascho Landis first fell for freshwater mussels while submerged in an Alabama creek, her pregnant belly squeezed into a wetsuit. After an hour of fruitless scanning, a mussel materialized from the rocks—a little spectaclecase, herself pregnant, filtering the river water through a delicate body while her gills bulged with offspring. In that moment of connection, Landis became a mussel groupie, obsessed with learning more about the creatures' hidden lives. She isn't the only fanatic; the shy mollusks, so vital to the health of rivers around the world, have a way of inspiring unusual devotion.

In Immersion, Landis brings readers to a hotbed of mussel diversity, the American Southeast, to seek mussels where they eat, procreate, and, too often, perish. Accompanied often by her husband, a mussel scientist, and her young children, she learned to see mussels on the creekbed, to tell a spectaclecase from a pigtoe, and to worry what vanishing mussels—70 percent of North American species are imperiled—will mean for humans and wildlife alike. In Immersion, Landis shares this journey, traveling from perilous river surveys to dry streambeds and into laboratories where endangered mussels are raised one precious life at a time.

Mussels have much to teach us about the health of our watersheds if we step into the creek and take a closer look at their lives. In the tradition of writers like Terry Tempest Williams and Sy Montgomery, Landis gracefully chronicles these untold stories with a veterinarian's careful eye and the curiosity of a naturalist. In turns joyful and sobering, Immersion is an invitation to see rivers from a mussel's perspective, a celebration of the wild lives visible to those who learn to search.
About the Author
---
Abbie Gascho Landis is a writer, veterinarian, and naturalist. She has won Duke University's Center for Documentary Studies 2015 Essay Award, an Arthur DeLong Writing Award, and was a finalist for the Constance Rooke Creative Nonfiction Award. Landis holds a bachelor's degree in English and biology from Goshen College and a doctorate in veterinary medicine from The Ohio State University. Her writing has been published in Pinchpenny Press, Full Grown People, and Paste Magazine.
Praise For…
---
"Immersion, by Abbie Gascho Landis, charts the world of the 500 million-year-old freshwater mussel...[it] is also an intimate portrait of a young family and their deep respect for these creekbed dwellers...An unusual as well as endearing weaving of memoir and nature writing."
— Times Literary Supplement

"Eloquent treatise…Landis's book is as much call to action as paean to mesmerizing molluscs."
— Nature

"A lyrical love letter to the imperiled freshwater mussel...Landis's writing is engaging and personal, demonstrating her bond with the natural world."
— Science

"Landis gets under the skin of not so much a single animal, but a whole ecosystem. Part scientist, part observer, and part campaigner against water pollution, she puts herself and her family at the centre of the story. This is neither cloying nor vain, and her growing fascination with her subject is infectious. Immersion is science writing at its best: rich, accurate, and moving."
— New Scientist

"A perfectly choreographed collision of genres that moves seamlessly between the precise and the poetic. Immersion is a tale about mussels, motherhood, curiosity, climate change, water. Grounded in science and ranging across the historical, the political, and the personal, the story is as rooted and responsive as the animals Landis writes about."
— Nieman Storyboard

"Immersion is accessible and fascinating, opening up an entirely new world of mussel science and clearly detailing the linkages between river health and mussel health. This is a recommended read for anyone interested in the health of our rivers and the fate of freshwater mussels."
— Water Canada

"This is nature writing at its best."
— Edward O. Wilson, University Research Professor Emeritus, Harvard University

"This graceful, beautiful book is filled with almost unbelievable surprises. The biggest surprise is that it is not about mussels; they merely play a leading role. Immersion is actually about the wondrousness of life, and the invitation we've all received to simply be in awe."
— Carl Safina, author of "Song for the Blue Ocean" and "Beyond Words: What Animals Think and Feel"

"Kudos to this lyrical veterinarian for deftly carving space in our hearts and minds for freshwater bivalves that you'll never forget."
— Alan Weisman, author of "The World Without Us" and "Countdown"