The Demon's Sermon on the Martial Arts: A Graphic Novel (Paperback)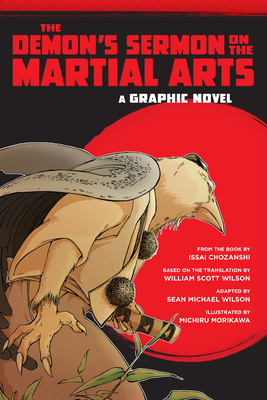 List Price: $19.95
Our Price: $18.95
(Save: $1.00 5%)
Description
---
A visually thrilling graphic novel adaptation of classic martial arts parables on swordsmanship and strategy—written by a real-life samurai
 
The Demon's Sermon on the Martial Arts is a classic collection of martial arts tales, written by the eighteenth-century samurai Issai Chozanshi. Featuring demons, insects, birds, cats, and numerous other creatures, the stories here may seem whimsical, but they contain essential teachings that offer insight into the fundamental principles of the martial arts. This graphic novel version based on Chozanshi's text brings these tales alive in a captivating and immediately accessible way.

Infused with Chozanshi's deep understanding of Taoism, Buddhism, Confucianism, and Shinto, the tales elucidate the nature of conflict, the importance of following one's own nature, yin and yang, the cultivation and transformation of ch'i (life energy), and the attainment of mushin (no-mind). Ultimately, the reader learns in a visually exciting way that the path of the sword is a path of self-knowledge and leads to an understanding of life itself.
About the Author
---
SEAN MICHAEL WILSON is a comic book writer from Scotland, living in Japan. He has had many books published with a variety of US, UK, and Japanese publishers, such as The Book of Five Rings, and edited the critically acclaimed AX: alternative manga (Publishers Weekly's "Best Books of 2010" in comics). In 2016, his book Lafcadio Hearn's "The Faceless Ghost" and Other Macabre Tales from Japan was nominated for the prestigious Eisner Award. And in 2017, his book Secrets of the Ninja won an International Manga Award from the Japanese Government.
Praise For…
---
"This poetic book immediately stands out as the best of Sean Michael Wilson's three graphic novel adaptations of classical works of Japanese philosophy. As a book of philosophy, it's fascinating; a dreamlike exploration of consciousness, life, and death. Michiru Morikawa's artwork is the perfect match for the text, her eerie, detailed illustrations—especially the lovely renderings of various animals—perfectly fitting the poetic feel. Recommended."
—Jason Thompson, Otaku USA magazine

"Wilson and Morikawa capture all the wisdom and beauty of these original texts and enhance them with the visual vitality and playful charms of modern manga. Their faithful retellings of these allegorical fables and philosophical reflections prove how timeless and rewarding they truly are."
—Paul Gravett, editor of 1001 Comics You Must Read before You Die