Handmade Gatherings: Recipes and Crafts for Seasonal Celebrations and Potluck Parties (Paperback)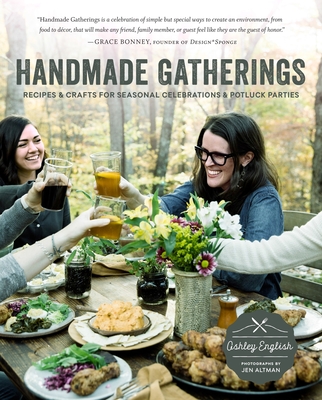 List Price: $24.95
Our Price: $23.70
(Save: $1.25 5%)
Description
---
Food made for sharing—recipes for 16 potluck parties that celebrate the seasons, friends, and delicious food.

Frosty winter fetes, lush springtime soirees, sultry summer get-togethers, and crisp autumn affairs—no matter what the season, it's always a good idea to gather a group of friends to share a celebratory meal or some festive nibbles. This cookbook is the perfect guide for throwing potluck get-togethers where the food truly shines. Create a winter wonderland that serves up comforting foods like Wild Rice–Stuffed Mushrooms, Roasted Salted Figs, and Hot Buttered Rum. Spring to life with early-season dishes like Pistachio-Crusted Asparagus with Feta Vinaigrette, Rhubarb Buttermilk Bread, and Chicken Potpie. Revel in the dog days of summer with an ice cream social, complete with a sundae bar and homemade Blackberry Mint Ice Cream. Celebrate the harvest with an apples to apples party featuring Apple Sage Mac and Cheese, Apple Butter Brie en Croute, and Candied Apples. With creative ideas for making each party special, Handmade Gatherings offers a fresh take on dining with friends.
About the Author
---
ASHLEY ENGLISH has degrees in holistic nutrition and sociology. She has worked over the years with a number of nonprofit organizations committed to social and agricultural issues, is a member of Slow Food USA, and writes a regular column for the popular blog Design*Sponge, as well as a column for the quarterly publication Taproot. She is the author of four books in the Homemade Living series (Canning and Preserving, Keeping Chickens, Keeping Bees, Home Dairy), Quench, and A Year of Pies. Ashley and her family live in Candler, North Carolina, where they are converting their land into a thriving homestead. Follow their adventures at www.smallmeasure.com.
Praise For…
---
"Handmade Gatherings brings together Ashley's seasonal recipes, crafts, and entertaining ideas, which I have been following for years now. From tips on how to make the most out of your market experience to how to get children involved in the activities, this book is filled with inspiration for parties, potlucks, and the like. Beautifully styled and photographed. Lovely all around. "—Aran Goyoaga, author of Small Plates and Sweet Treats and creator of Cannelle et Vanille

"While I wish I could say I whip up a multicourse meal on the regular for twenty of my closest friends and family, it simply doesn't happen that way. Potlucks are one of the ways I most enjoy having people over. I love the way that Handmade Gatherings encourages collaborative potlucks and also provides so much inspiration for each season—from the recipe to ideas for the décor. My potlucks are instantly so much better (and tastier). "—Joy D. Cho, creator of Oh Joy!

"English merges dishes with party ideas, and having sampled her spiced apple pound cake, we can say with confidence that it's just what readers need for parties as they look to spring and outdoor events. "—Library Journal

"There are few things more intimate and meaningful than welcoming guests into your home. The time and love that goes into planning a shared meal makes guests feel welcomed and loved, and Ashley English knows how to do that better than anyone. Handmade Gatherings is a celebration of simple but special ways to create an environment, from food to décor, that will make any friend, family member, or guest feel like they are the guest of honor. "—Grace Bonney, founder of Design*Sponge

"As someone who often hosts gatherings, I appreciate Ashley's approach to communal, potluck meals. I particularly value her approach to slowing down, appreciating the process of creating an experience, and noticing the changing of the seasons. Ashley has created a framework for celebrating friends and family, creating a community experience, and enjoying the beauty of the growing seasons and the changing calendar year. "—Natalie Chanin, founder and creative director of Alabama Chanin