The Dhammapada: A Translation of the Buddhist Classic with Annotations (Shambhala Pocket Library #1) (Paperback)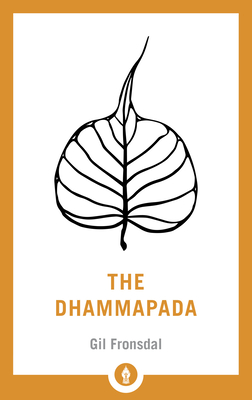 List Price: $12.95
Our Price: $11.01
(Save: $1.94 15%)
Warehouse, In Stock | Usually Ships in 1-5 Days | New
Description
---
This pocket-sized edition of the most widely read of all classic Buddhist texts presents, in verse form, the poetic and inspirational sayings of the Buddha

Presenting two distinct goals for leading a spiritual life—attaining happiness in this life (and in future lives) and the achievement of absolute peace—this classic text of teaching verses from the earliest period of Buddhism in India conveys the philosophical and practical foundations of the Buddhist tradition. This accessible translation combines Gil Fronsdal's personal knowledge of the Buddhist path with his rigorous attention to detail in bringing forth the original Pali text for seekers of all levels.

This book is part of the Shambhala Pocket Library series.

The Shambhala Pocket Library is a collection of short, portable teachings from notable figures across religious traditions and classic texts. The covers in this series are rendered by Colorado artist Robert Spellman. The books in this collection distill the wisdom and heart of the work Shambhala Publications has published over 50 years into a compact format that is collectible, reader-friendly, and applicable to everyday life.
About the Author
---
Gil Fronsdal has practiced Zen and Insight Meditation since 1975 and has a PhD in Buddhist Studies from Stanford University. He has trained in both the Japanese Soto Zen tradition (San Francisco Zen Center with Suzuki Roshi) and the Insight Meditation school of Theravada Buddhism from Southeast Asia. Gil was trained as a Vipassana teacher by Jack Kornfield and is part of the Vipassana teachers' collective at Spirit Rock Meditation Center. He was ordained as a Soto Zen priest at the San Francisco Zen Center, and in 1995 received Dharma Transmission from Mel Weitsman, the abbot of the Berkeley Zen Center. He has been the primary teacher for the Insight Meditation Center, in Redwood City, California, since 1990. He is a husband and father of two boys.
Praise For…
---
"In his highly praised new translation, Fronsdal brings to bear his considerable experience both as a scholar and a practitioner. His intimacy with the text is obvious: the verses ring out clearly on the first read, communicating their meaning with precision and poetic sensitivity."
—Tricycle

"It's always valuable to go back to the Dhammapada, that most-beloved and oft-translated of Buddhist texts. The publication of Gil Fronsdal's new translation gives us an excellent opportunity to do so. Fronsdal takes care in his choice of words and draws out subtleties of meaning with important significance for people who practice meditation."
—Shambhala Sun

"What sets this particular version apart is that its verses remain true to the original Pali, the canonical language of Buddhism in Southeast Asia. . . . With its easily readable blend of literary sensitivity and clarity of text, this new edition of the Dhammapada is a highly recommended addition to the practitioner's library of classical spiritual texts."
—The Beacon

"A fine new translation of an ancient classic. Fronsdal's balance of fidelity to the text and sensitivity to its spirit is perfect. A book to be treasured."
—Carl Bielefeldt, Stanford University

"The language is clear, precise, and inspiring, the phrasing spare and elegant, and the depth of these wisdom teachings apparent on every page. Gil's wonderful work brings these timeless passages of the Buddha right into our hearts. Highly recommended."
—Joseph Goldstein, author of One Dharma

"At last a translation of the Dhammapada that combines academic precision and a heartfelt commitment to Buddhist practice. Gil Fronsdal's version of this classic text will set a new standard for scholars and practitioners alike."
—Stephen Batchelor, author of Buddhism without Beliefs and Living with the Devil

"I have read many Dhammapada translations in several languages, but never have I come across such a crisp, precise, and lucid translation as this."
—Bhante Gunaratana, Bhavana Society