Gardening with Emma: Grow and Have Fun: A Kid-to-Kid Guide (Paperback)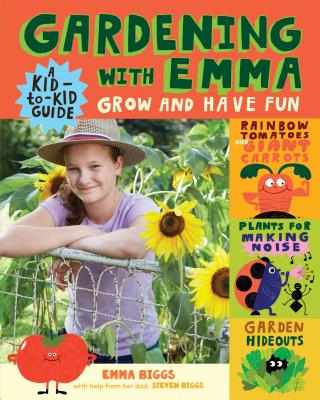 List Price: $18.95
Our Price: $18.00
(Save: $0.95 5%)
Description
---
National Parenting Product Awards Winner!

Thirteen-year-old Emma Biggs is passionate about gardening and eager to share her passion with other kids!

Gardening with Emma is a kid-to-kid guide to growing healthy food and raising the coolest, most awesome plants while making sure there's plenty of fun. With plants that tickle and make noise, tips for how to grow a flower stand garden, and suggestions for veggies from tiny to colossal, Emma offers a range of original, practical, and entertaining advice and inspiration. She provides lots of useful know-how about soil, sowing, and caring for a garden throughout the seasons, along with ways to make play spaces among the plants. Lively photography and Emma's own writing (with some help from her gardening dad, Steve) capture the authentic creativity of a kid who loves to be outdoors, digging in the dirt.
About the Author
---
Emma Biggs and her father Steven Biggs are the co-authors of Gardening with Emma. A 13-year-old with a passion for gardening, Emma shares her kid-focused gardening ideas at events, on radio shows, and on her blog. In 2017, she grew 68 different varieties of tomatoes. Steven is a writer specializing in gardening, farming, and food production, and has published articles in magazines including Trellis, Small Farm Canada, Garden Making, and Edible Toronto. He lectures frequently at gardening events across Canada and blogs at www.stevenbiggs.ca. Emma, Steven, and the rest of their family live in Toronto.
 
Praise For…
---
"It is so refreshing to discover a kid's gardening book written by a kid for other kids …. Emma's practical gardening tips are a win for the whole family!" — Sarah Pounders at kidsgardening.org

"Emma Biggs inspires kids of all ages to get their hands dirty, their feet muddy, and their thumbs green!" —  Richard Louv, author of Last Child in the Woods, The Nature Principle, and Vitamin N

"Emma shares a green wisdom and knowledge that is as deeply rooted as an oak tree. She is sure to inspire other kids to dig in and grow with their gardens." — Sharon Lovejoy, author of Sunflower Houses, Roots Shoots Buckets Boots, and Trowel Error

"Simply flipping through Gardening with Emma had me ready to get my hands dirty and get absorbed in new projects with my kids. Along with fun photos and illustrations, this book has a breadth and depth that makes it destined to become that tattered-with-loving-use, go-to reference and gardening-debate resolver for children and parents for many years to come." Brad Long, chef, restaurateur, and cookbook author

"Chock-full of startlingly deep and fresh insights, this book has a whole lot to teach about how to make gardening the right mix of work and joy." — Wayne Roberts, PhD, city food policy expert

"A wonderfully refreshing book that explores gardening from a kid's perspective, Gardening with Emma will make you smile, laugh out loud, and fill you with hope about the next generation. Yes, it's filled with heartfelt stories and useful gardening information, but the photos, illustrations, and tone of the book are all about having fun, and that's what gardening should always be about." Doug Oster, Home and Garden Editor, Everybody Gardens, Tribune-Review