The Anatomy of Inequality: Its Social and Economic Origins- and Solutions (Paperback)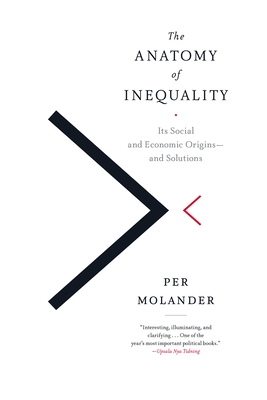 List Price: $16.99
Our Price: $16.14
(Save: $0.85 5%)
Description
---
"Virtually all human societies are marked by inequality, at a level that surpasses what could be expected from normal differences in individuals' capabilities alone."

So begins this new approach to the greatest social ill of our time, and nearly every other era. From a country with one of the world's lowest rates of income and social imbalance, award-winning Swedish analyst Per Molander's book changes the conversation about the causes and effects of inequality. Molander addresses the obvious questions that other pundits often avoid—including why the wealthiest countries, such as the United States, have the greatest incidences of inequality.
            Drawing from anthropology, statistics, references to literature, and political science, Molander looks at his subject across various political and ideological systems to examine policies that have created more just societies, and demonstrate how we can enact similar changes in the name of equality. In doing so, he presents a persuasive and moving case that humankind is much greater than the inequalities it has created.
About the Author
---
Per Molander was the recipient of the 2016 Essay Prize from the Swedish Academy. He is the author of numerous reports, articles, and books about political philosophy and policy. He has consulted for the World Bank, the Organization for Economic Co-operation and Development, the European Commission, and the Swedish government. He lives in Uppsala, Sweden.
Praise For…
---
"For a long time, I've been violently shaking the most debated book of the spring, Thomas Piketty's Captial in the Twenty-First Century. Now, out falls the core: Per Molander's The Anatomy of Inequality."—Aftonbladet


"This well researched and documented book… provides new insights." - The Missourian