Make Room: A Child's Guide to Lent and Easter — Part of the "Circle of Wonder" Series (Paperback)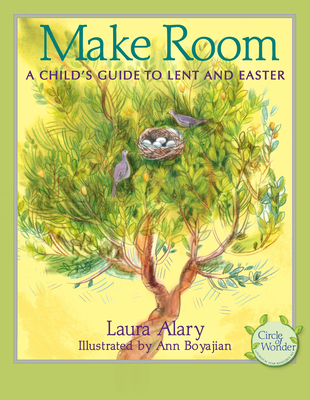 List Price: $16.99
Our Price: $14.44
(Save: $2.55 15%)
Warehouse, In Stock | Usually Ships in 1-5 Days | New
Description
---
While the Advent season is filled with fun and expectations, Lent can be more difficult for children. How can we help children approach this season in a way that is meaningful and not frightening?

Make Room presents Lent as a special time for creating a welcoming space for God. Other books offer excellent ideas for going through the Lenten season with children, but Make Room uniquely connects its projects to the story of Jesus. Simple and practical activities such as baking bread, having a neighbor over for dinner, uncluttering your room, and watching less TV become acts of justice and kindness, part of a life of following and imitating Christ, and a way to make room for God in our lives and in the world around us.

Other books tell the Passion narrative for young readers; this unique book integrates themes of hospitality and self-giving that echo Jesus' ministry, Jesus' entire life. Make Room invites children to wonder about the story, to encounter Lent with all their senses, and to experience activities in Lent as part of a life of discipleship.
About the Author
---
Laura Alary is a writer, storyteller, and religious educator. When she was a little girl she used to make her own books out of manila paper, crayons, and mucilage. These early efforts at writing eventually gave way to academic papers and theses, as she earned degrees in Classics (B.A., Dalhousie), Theology (M.Div., Knox College, University of Toronto) and New Testament (Ph.D., University of St. Michael's College). More recently, Laura has focused on a new type of education—raising three creative and curious children. She leads workshops on everything from storytelling to biblical interpretation, teaches the occasional university course, and works with children at a local congregation. She has also returned to her early love of creating her own books, including Is That Story True? and Mira and the Big Story. Laura lives in Toronto, Canada.

Ann Boyajian is the illustrator of many books, including Samantha's Friendship Fun (in the American Girl series), More Spice Than Sugar (Houghton Mifflin), and O Say Can You See? American's Symbols, Landmarks, and Inspiring Words (Scholastic).
Praise For…
---
"A great addition to your Lent / Easter Shelf Unit: This unique book invites children to experience Lent with all their senses, and to see it as a special time for creating a welcoming space for God. We recommend placing this book on the bottom shelf of your Lent / Easter shelf unit." —The Rev. Cheryl V. Minor, Ph.D. Co-Rector, All Saints' Church, Belmont, MA, Director of the Center for the Theology of Childhood, The Godly Play Foundation

"While I realize my daughter will develop her own faith traditions, I want her to be aware of all the various ways she can remember all her Lord and Savior has done for her. This book explains why Lent helps us remember. Taking us through the events of Holy Week, the author explains how all the Lenten traditions we focus on help us "Make Room" for more of Jesus. While the book is simple enough for a child, it unpacks the importance of participating in Lent very well." —Traci Rhoades

"The book reveals what is usually hidden: what we knew as penitential is actually life-giving and faith-building. After reading the book to my kids, my five year old daughter exclaimed 'I can't wait for Lent! I just can't wait!'"—Gary Neal Hansen, Author of Kneeling with Giants: Learning to Pray with History's Best Teachers

"Dr. Alary truly respects the child and asks us to walk with them as they point us to Christ. This is a wonderful resource." —Rev. Olivia Stewart, Director of Children & Worship

"This is a poetic, practical and theologically wise book for children." —L. Ann Jervis, Professor of New Testament, Wycliffe College, University of Toronto.

"Wow, what a wonderful children's book, delightfully illustrated and nicely told. It is an invitation for children to wonder about the Lenten story, helping children to experience Lent with all their senses.  I think it is a fine book for almost any kind of Christian." —Byron Borger, Hearts and Minds Books

"Make Room: A Children's Guide to Lent and Easter was a solid addition to the religious education of our young children. Where many Easter books focus on the resurrection of Christ, this book tenderly and thoughtfully explained the Lenten season with child-appropriate examples of reasonable and realistic ways in which children can observe. With sections on reaching out to help others, giving away extra so that others can have simply enough, and ways to sit in quiet prayer and reflection, this book created room for ongoing thought-provoking questions. Best of all, the book is written in a way that allows the child to see ways in which to meaningfully participate in the process and shift attention away from a season of 'I can't have...' to a season of preparation and dedication. Make room on your shelf for this title." —Amy Shaw, Educator

"Reading Make Room with my two-year old Plum, I delighted to see how Alary makes room for our own conversation within her text, sprinkling pages with I wonder and maybe. I wonder why Jesus went into the desert? I wonder who they thought Jesus was? Ann Boyajian's illustrations are thought-filled and beautiful, making the book feel like a window into an active congregation where the Biblical stories are vividly live. I liked how Alary balances wondering questions with more straightforward teaching. She writes simply and clearly so that small children will be able to understand, but older ones will also be able to find rich material  for their own wondering. Intriguingly, Alary makes a point of creating a wide sense of space around both the crucifixion and the resurrection. She does not supply the theological meaning behind either aspect of the story, but rather describes the lived history and experience of Easter and again makes room for us all, whatever our theological understanding, within the story." —Katie Munnik, The Messy Table, Presbyterian Record

"Children of all ages will come away with a broader understanding of the holy Lenten season and what it means to prepare for the glorious gift of Easter and new life in Christ." —Michelle Thomas-Bush, Big Ideas in Youth Ministry