Break Through: When to Give In, How to Push Back (CD-Audio)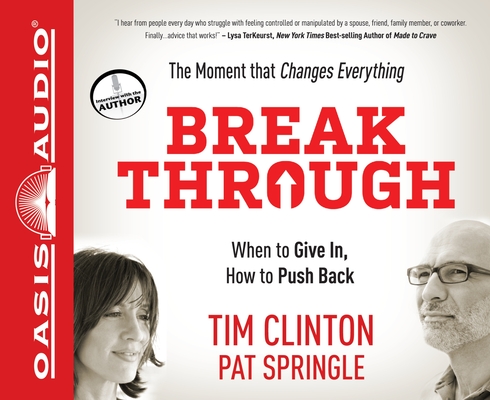 $22.99
This item is backordered and not currently available. Please contact us for an estimated availability date.
Description
---
"Well, he does have a good side." "You know, it's probably my fault." "She's had a rough life. I need to cut her some slack." When you really care about someone, it's easy to get stuck in painful, even destructive patterns—caving in to a spouse's manipulation, ignoring a live-at-home son's irresponsibility, not confronting a friend's addiction. We excuse people again and again, and then kick ourselves for not setting better boundaries. But this important audio book, with its transformational tools and insightful illustrations from leading Christian counselor Tim Clinton and noted author Pat Springle, will guide you in not only breaking through to better relationships but making big changes for the better. With their expert principles for learning to say yes when you want to and no when you need to, you'll discover how to give up your need to please, rescue, fix, or control anyone else. Leave others' unrealistic expectations behind. Speak the hard truth to those who have hurt you. And exchange harmful relationship habits for healthy ones. Here is the expert advice you need for knowing when to give in and how to push back for the best life you can have with the people you love most.
About the Author
---
Dr. Tim Clinton, LPC, LMFT, is president of the nearly 50,000-member American Association of Christian Counselors (AACC) and founder of Light University Online, which has over 160,000 students enrolled. He is also the professor of counseling and executive director of the Center for Counseling and Family Studies at Liberty University. Pat Springle is the founder of Baxter Press and coauthor of the classic work, Codependency. Pat served on the staff of Campus Crusade for Christ and was an executive with Rapha Treatment Centers. Springle has authored or coauthored more than 50 books.
Praise For…
---
"I hear from people every day who struggle with feeling controlled or manipulated by a spouse, friend, family member, or coworker. Finallly... advice that works!" —Lysa TerKeurst, New York Times best-selling author of Made to Crave