Impermanence in Plain English (Paperback)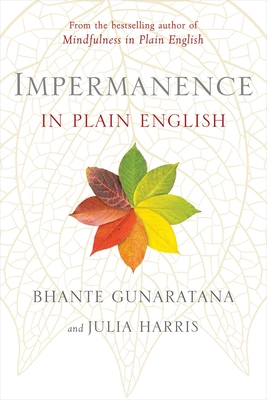 List Price: $17.95
Our Price: $15.26
(Save: $2.69 15%)
Warehouse, In Stock | Usually Ships in 1-5 Days | New
Description
---
The bestselling author of Mindfulness in Plain English guides the reader toward a direct and personal realization of one of the foundational tenets of Buddhism: all things that arise must pass away.

In Impermanence in Plain English, the beloved author and teacher Bhante Gunaratana, alongside Julia Harris, clearly and masterfully explains the key Buddhist insight of impermanence and invites the reader to personally investigate its truth.

Once-youthful bodies grow old and weary. New thoughts, feelings, and sensations arise and fade every second. Impermanence is not some abstract, metaphysical idea. This is the Dhamma, and you can see it for yourself.

Drawing from Pali scriptures and writing with fresh, direct language, Bhante Gunaratana and Julia Harris highlight the Buddha's exhortation that we must directly realize for ourselves the liberating insights that free us from suffering and cyclic existence, without relying only on the word of religious authorities or academic or philosophical musings.
About the Author
---
Bhante Henepola Gunaratana was ordained as a Buddhist monk at the age of twelve in Malandeniya, Sri Lanka. He's the author of Mindfulness in Plain English, Eight Mindful Steps to Happiness, and several more books—including his autobiography, Journey to Mindfulness. He currently lives at Bhavana Society Forest Monastery in West Virginia.

Julia Harris lives and meditates in Colorado, though her mind still roams far beyond the mountains of her home. If even one reader relaxes the ties of personality view and conceptual elaboration by reading this book, her heart will rejoice.
Praise For…
---
"Impermanence can be scary to contemplate, but it is also utterly freeing. Learn more from one of the world's greatest living meditation masters."
— Dan Harris, Ten Percent Happier podcast and author, 10% Happier: How I Tamed the Voice in My Head, Reduced Stress without Losing My Edge, and Found Self-Help That Actually Works

"In this rich distillation of a lifetime of profound Dharma practice, Bhante Gunaratana invites us to 'come and see' for ourselves the liberating truth of impermanence. With great warmth and clarity, he shows how the awakened heart can find security even in the midst of constant change, not by ignoring or resisting impermanence but by fully embracing it. Impermanence in Plain English is a major teaching."
— John Brehm, author of Poetry of Impermanence, Mindfulness, and Joy and Dharma Talk

"This book is an inspired contemplation of the key to liberating insight—the perception of impermanence. Beautifully written in short, easy-to-digest chapters, Impermanence in Plain English combines profound teachings from Buddhist discourses with practical reflections on the myriad ways that impermanence manifests in ordinary lives. This simple yet deep guide points newcomers to insight meditation right to the heart of insight knowledge, and it encourages seasoned meditators to trust the joyful unfolding of this path of peace."
— Shaila Catherine, author of Beyond Distraction: Five Practical Ways to Focus the Mind