Vision: Your Pathway to Victory: Sharing a Direction to a Better Future (Paperback)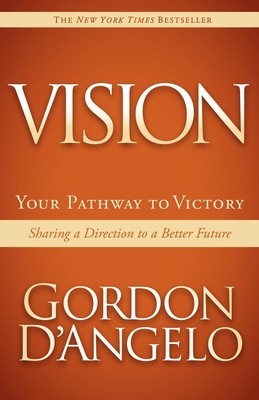 List Price: $17.95
Our Price: $9.99
(Save: $7.96 44%)
Description
---
Author your own destiny by exploring the power of vision. "Vision: Your Pathway to Victory" is an inspirational guide that takes you beyond the norm, and illuminates you to the highest level. You are inches from greatness, and this book gives you the tools jump that hurdle. You can harness boundless energy, and create the most amazing results in your life and business. Gordon D'Angelo reveals Strategic Visionary Planning, his unique sought-after program that uplifts you from your typical thinking and gives you freedom to access unlimited resources.
Follow this pathway and discover visionary steps that are exhilarating, efficient, and effective:
Author your vision as a defined intention
Create initiatives that catapult your vision into reality
Keep accountability and measure your progress with bridge numbers
Accelerate your definable intention with the energy of others Expand your opportunities by building an unstoppable connection chain
Plug into valuable sources and perpetuate the magnetism of your vision
Take your aspirations and talent to a higher level
Everything starts with vision. Whether you are an entrepreneur, a top business executive, or just getting started, "Vision: Your Pathway to Victory" will show you how unparalleled success is right around the corner. This is just the beginning.
About the Author
---
Gordon D'Angelo is co-founder and Chairman of NEXT Financial Group, Inc., the seven-time Broker/Dealer of the Year Award winner, and Chairman and CEO of NEXT Financial Holdings, Inc., handling over 14 billion dollars in assets. In addition to starting numerous 100 million dollar companies, Gordon was an original founder and director of Jackson Hewitt Tax Service. He has consulted for two of the top fifteen franchises in the world, and sits on the Board of Directors at Liberty Tax Service. Gordon speaks at numerous financial and outside industry engagements, sharing his sought-after insight on Strategic Visionary Planning. He has been the key-note speaker for organizations and events such as Liberty Tax Service, The NEXT Challenge and Kingdom Advisors. He has also appeared on every major network affiliate, including ABC, CBS, FOX and NBC. Gordon has shared the economic stage with such notables as former Secretary of State, James Baker; columnist, George Will; and the multi-talented Ben Stein. Author Residence: Virginia Beach, VA