The Joy of Hobby Farming: Grow Food, Raise Animals, and Enjoy a Sustainable Life (Joy of Series) (Paperback)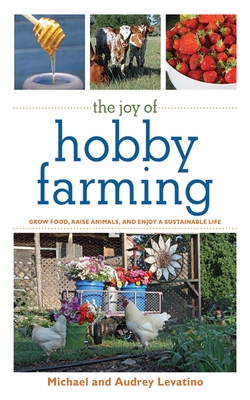 List Price: $14.95
Our Price: $14.20
(Save: $0.75 5%)
Description
---
When the farm is a lifestyle, not just a way to earn a living, that's hobby farming. Most of us want to live a sustainable life in which we protect the land and keep it safe from development and overproduction. But we can take this a step further by learning how to grow and savor what we can produce ourselves—while still maintaining an alternative career to fund this passion. Michael and Audrey Levatino here share how to:

     • Grow your own food.
     • Raise chickens, horses, llamas, bees, and more.
     • Practice being (a little) off the grid.
     • Sell the bounty in your local community.
     • Balance a professional career with a rural lifestyle.

The Joy of Hobby Farming is a book that will excite armchair farmers and inspire any do-it-yourselfer.
About the Author
---
Michael and Audrey Levatino have been hobby farming for almost ten years, producing and selling flowers, vegetables, honey, eggs, and handmade jewelry and crafts at several local farmers' markets. Michael Levatino works off the farm at a major publishing house. Their twenty-three-acre farm, Ted's Last Stand, is located outside of Gordonsville, Virginia.
Praise For…
---
"The Joy of Hobby Farming will guide you toward self-sufficiency and restore your faith in your own two hands, if you'd just start digging." (Ferenc Maté, author of A Vineyard in Tuscany and A Real Life)

"As the title of the book suggests, this is not a guide for those who want to become full-time, year-round farmers. It's for those who want the ground they live on to nourish their bodies as well as their spirit." (The Daily Progress)

"Detailed but never excessively so, and richly illustrated with color photos, the Levatinos' book is a useful manual for would-be hobby farmers and a world of entertainment for readers with a passion for going green or simply with fond recollections of farm life." (Richmond Times-Dispatch)

"…in this book, they provide tips for everything from growing your own food to choosing the right blooms for your garden to running your farm as a business for additional revenue." (North Jersey Record)

"The Joy of Hobby Farming will guide you toward self-sufficiency and restore your faith in your own two hands, if you'd just start digging." (Ferenc Maté, author of A Vineyard in Tuscany and A Real Life)

"As the title of the book suggests, this is not a guide for those who want to become full-time, year-round farmers. It's for those who want the ground they live on to nourish their bodies as well as their spirit." (The Daily Progress)

"Detailed but never excessively so, and richly illustrated with color photos, the Levatinos' book is a useful manual for would-be hobby farmers and a world of entertainment for readers with a passion for going green or simply with fond recollections of farm life." (Richmond Times-Dispatch)

"…in this book, they provide tips for everything from growing your own food to choosing the right blooms for your garden to running your farm as a business for additional revenue." (North Jersey Record)