The Science of Consequences: How They Affect Genes, Change the Brain, and Impact Our World (Paperback)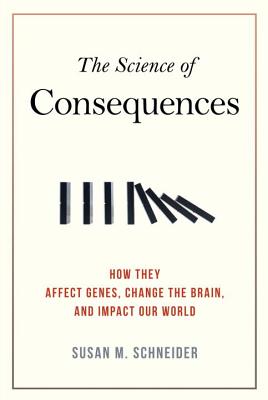 List Price: $21.00
Our Price: $18.69
(Save: $2.31 11%)
Warehouse, In Stock | Usually Ships in 1-5 Days | New
Description
---
Actions have consequences--and the ability to learn from them revolutionized life on earth. While it's easy enough to see that consequences are important (where would we be without positive reinforcement?), few have heard there's a science of consequences, with principles that affect us every day. 

Despite their variety, consequences appear to follow a common set of scientific principles and share some similar effects in the brain--such as the "pleasure centers."  Nature and nurture always work together, and scientists have demonstrated that learning from consequences predictably activates genes and restructures the brain.  Applications are everywhere--at home, at work, and at school, and that's just for starters.  Individually and societally, for example, self-control pits short-term against long-term consequences. 

Ten years in the making, this award-winning book tells a tale ranging from genetics to neurotransmitters, from emotion to language, from parenting to politics, taking an inclusive interdisciplinary approach to show how something so deceptively simple can help make sense of so much.
About the Author
---
Susan M. Schneider, PhD (Stockton, CA), a biopsychologist and naturalist, has an international reputation in nature-nurture relations, mathematical modeling of animal behavior, and the principles of learning from consequences. She was a friend of B. F. Skinner, who mentored her at the start of her academic career. Schneider is currently a visiting scholar at the University of the Pacific. She has been a professor at St. Olaf College, Auburn University, and Florida International University, and a visiting research fellow at the University of Auckland.
Praise For…
---
"A wide-ranging and highly entertaining guide to the many ways that the behavior of humans and other animals—from bugs to bonobos—is shaped by consequences. . . . An enjoyable and enlightening book for anyone who is curious about behavior and what makes it tick."
—Mark S. Blumberg, author of Freaks of Nature and editor in chief of Behavioral Neuroscience

"This engaging, thoroughly researched book could not be more timely or useful. . . . Bringing the timeless contributions of B. F. Skinner into the twenty-first century, [Schneider] shows how the relationship between the brain and behavior is a two-way street, how change really happens, and why a proper understanding of consequences can improve our lives, relationships, and society."
—Carol Tavris, coauthor of Mistakes Were Made (but Not by Me)

"Biopsychologist Susan Schneider, a protégé of twentieth-century behaviourist B. F. Skinner, reveals the effects of actions' consequences on evolution, the genome and the brain. Learning from consequences, she argues, helps to reconfigure the brain across species. And, she avers, such insights can inform real-life applications, from the treatment of depression to solving global issues such as overfishing."
—Nature

"A remarkable book. Skinner might have won over far more people had he had The Science of Consequences in his arsenal. It's marvelous."
—Paul Chance, former editor of Psychology Today and author of Learning and Behavior

"This book is a kind of love letter to a simple yet profound truism, and it explains how consequences influence not only our behavior but our brains as well."
—Amy Sutherland, author of What Shamu Taught Me about Life, Love, and Marriage

"This book will be an eye-opener. . . . Schneider shows how flatworms, rhinos, day-old infants, and adults with dementia—all creatures great and small—are in the business of getting rewards. . . . With telling examples from everyday life . . . this book places the puzzling miscellany of human experience in much-needed context."
—George Ainslie, author of Picoeconomics

"With humor and compassion . . . Schneider demonstrates the power and subtlety of the science of consequences, showing how its principles can be mobilized to improve and enrich our lives."
—Eva Jablonka, coauthor of Evolution in Four Dimensions

"While the research in this area often can be difficult to digest, Schneider's writing style, everyday examples, and humor make it easy. I truly enjoyed this book; it's an important contribution to advancing understanding about the fundamental laws of behavior. A good read on an important topic."
—Aubrey C. Daniels, author of Bringing Out the Best in People