Samurai Executioner Omnibus Volume 4 (Paperback)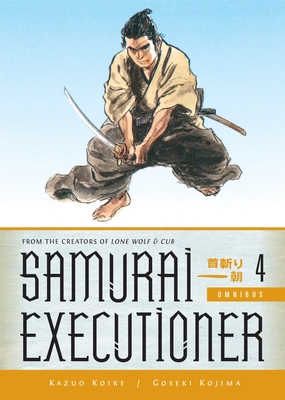 List Price: $19.99
Our Price: $18.99
(Save: $1.00 5%)
Description
---
Yamada Asaemon, The shogun's executioner receives many strange requests from the condemned--a woman who bequeaths her severed locks to her beloved, a gardener who ask for the "beheading" of a chrysanthemum. And while strangers to Asaemon, their final moments and the stories behind their appeals can sometimes reveal more of a person's character than a lifetime of association.

From Kazuo Koike and Goseki Kojima, legendary creators of Lone Wolf and Cub, comes the final omnibus volume of Samurai Executioner, a dark, complex exploration of Edo-period feudal Japan and the depths of the human spirit.
About the Author
---
Kazuo Koike is a prolific Japanese manga writer, novelist and entrepreneur. Early in Koike's career, he studied under Golgo 13 creator Takao Saito and served as a writer on the series. Koike, along with artist Goseki Kojima, made the manga, Lone Wolf and Cub, and Koike also contributed to the scripts for the 1970s film adaptations of the series, which starred famous Japanese actor Tomisaburo Wakayama. Koike and Kojima became known as the "Golden Duo" because of the success of Lone Wolf and Cub. Another series written by Koike, Crying Freeman, which was illustrated by Ryoichi Ikegami, was adapted into a 1995 live-action film by French director Christophe Gans. The author lives in Tokyo, Japan.