Extra Bold: A Feminist, Inclusive, Anti-racist, Nonbinary Field Guide for Graphic Designers (Paperback)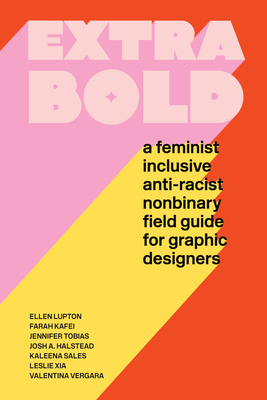 List Price: $29.95
Our Price: $25.46
(Save: $4.49 15%)
Warehouse, In Stock | Usually Ships in 1-5 Days | New
Description
---
Extra Bold is the inclusive, practical, and informative (design) career guide for everyone!

Part textbook and part comic book, zine, manifesto, survival guide, and self-help manual, Extra Bold is filled with stories and ideas that don't show up in other career books or design overviews.

• Both pragmatic and inquisitive, the book explores power structures in the workplace and how to navigate them.
• Interviews showcase people at different stages of their careers.
• Biographical sketches explore individuals marginalized by sexism, racism, and ableism.
• Practical guides cover everything from starting out, to wage gaps, coming out at work, cover letters, mentoring, and more.

A new take on the design canon.
• Opens with critical essays that rethink design principles and practices through theories of feminism, anti-racism, inclusion, and nonbinary thinking.
• Features interviews, essays, typefaces, and projects from dozens of contributors with a variety of racial and ethnic backgrounds, abilities, gender identities, and positions of economic and social privilege.
• Adds new voices to the dominant design canon.

Written collaboratively by a diverse team of authors, with original, handcrafted illustrations by Jennifer Tobias that bring warmth, happiness, humor, and narrative depth to the book.Extra Bold is written by Ellen Lupton (Thinking with Type), Farah Kafei, Jennifer Tobias, Josh A. Halstead, Kaleena Sales, Leslie Xia, and Valentina Vergara.
About the Author
---
Ellen Lupton is curator of contemporary design at the Cooper Hewitt, Smithsonian Design Museum in New York City and director of the Graphic Design MFA program at the Maryland Institute College of Art in Baltimore. An author of numerous books and articles on design, she is a public-minded critic, frequent lecturer, and AIGA Gold Medalist.

Jennifer Tobias is a scholar and illustrator. She holds a PhD in art history from the City University of New York, an MLS from Rutgers University, and a BFA from Cooper Union. She served as a librarian at the Museum of Modern Art and Parsons School of Design.
Praise For…
---
"In the right hands, this book will be a catalyst. Extra Bold isn't just for feminists or LGBTQ+ designers or those in ethnic minorities. It is a must-read for any human working in the design field. With honesty and humor, interviews and infographics, history and future-forward advice, this "field guide" is a timely resource for navigating and leading a career in design today. Eye-opening, empowering, and, at times, laugh-out-loud funny (especially the 'Emotional Labor Invoice')."
- Creative Pro,
"The subtitle says it all.
Extra Bold
is in fact the feminist, inclusive, anti-racist, non-binary field guide that designers have been looking for, and if they haven't been looking, they should have been."
— Technical Communication
,
"Lupton et al. help balance what design history has weighted toward the white male end of the spectrum. The book is light, breezy, and an easy read with ample illustrations, but the reader should not be fooled into thinking that the book is lightweight. Social equity is an important subject, and Extra Bold gets into many of the critical details. This is a must-read contribution in a rapidly changing field."
—
Choice
,
"This work empowers readers with theory, historical precedent, and practical information, while encouraging everyone to 'amplify other voices and disrupt patterns of inequity.' Don't pass on this singular resource."
-
Library Journal (STARRED REVIEW)
,
"A handbook for those wanting to embark on a career in graphic design, Extra Bold: A Feminist, Inclusive, Anti-Racist, Nonbinary Field Guide for Graphic Designers combines all types of publications to be part textbook, part comic, zine, manifesto, survival guide and self-help manual. Through essays, interviews, artwork, typeface and beyond, lesser heard voices at various stages of their careers are given a platform to share insights from the inside. Along with information on hiring processes, power structures, mentoring, workplace discrimination and more, Extra Bold aims to make the world of design a little more accessible."
  - Cool Hunting,
"A practical guide for career designers - or those just obsessed with type - Extra Bold is "part zine, part text, part manifesto". It presents interviews, typefaces and projects by a diverse arraof designers, while the playful illustrations by Jennifer Tobias bring the book to life." 
- Financial Times ,