New-Generation African Poets: A Chapbook Box Set (Tatu) (Boxed Set)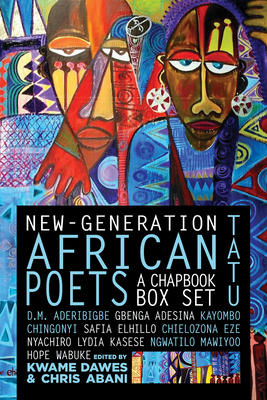 List Price: $29.95
Our Price: $25.46
(Save: $4.49 15%)
Description
---
New-Generation African Poets is an ambitious, vital project that delivers exactly what it promises...As a group, the chapbooks dispel stereotypes about African writing. They also illustrate what editors Dawes and Abani note about the many ways poets can understand or redefine their ties to Africa. These insights are poignant and valuable, especially at a time when millions around the globe find themselves somewhere between new countries and ancestral lands they've left behind.
--Washington Post
Full of the music, inventiveness, passion and coolness that make him once of the most exciting poets around to read and to hear read.
--The Poetry School, included in Books of the Year 2016 list.
Kwame Dawes and Chris Abani, authors of numerous collections of poetry and prose, have taken on the vital project of publishing short collections by contemporary poets from Africa, packaged together in beautiful boxed sets.
--New York Times Magazine
There is quite certainly nothing to doubt about the quality of poems collected here...Each poem has an edge that cuts deeply, and every surface of the set is adorned with Victor Ehikhamenor's vibrant artwork...Eight poets hailing from Kenya, Nigeria, Sudan, Tanzania and Zambia, each lauded in introductions by Dawes, co-editor Chris Abani and a cohort of other poets, make New-Generation African Poets: Tatu a collection pulsing with fresh talent in a series that poetry lovers worldwide should be grateful for.
--Shelf Awareness
Chris Abani and Dawes also edited Tatu, a collection of contemporary poetry by African poets due out in the spring, as part of their yearly New-Generation African Poets Series.
--The Root
This elegant, limited-edition box set features nine chapbooks: eight volumes of poetry, plus an introduction by editors Kwame Dawes and Chris Abani. The eight African poets included are D.M. Aderibigbe, Gbenga Adesina, Kayombo Chingonyi, Safia Elhillo, Chielozona Eze, Nyachiro Lydia Kasese, Ngwatilo Mawiyoo, and Hope Wabuke.
The box set is an annual project of the African Poetry Book Fund, in collaboration with Akashic Books, which seeks to identify the best poetry written by African authors working today, with a special focus on those who have not yet published their first full-length book of poetry.

About the Author
---
Kwame Dawes is the author of eighteen collections of poetry, most recently Duppy Conqueror, as well as two novels, numerous anthologies, and plays. He has won Pushcart Prizes, a Guggenheim Fellowship, an Emmy, and was the 2013 awardee of the Paul Engel Prize. At the University of Nebraska-Lincoln, he is a Chancellor's Professor of English and Glenna Luschei Editor of Prairie Schooner. Dawes is the associate poetry editor at Peepal Tree Press, the series editor of the University of South Carolina Poetry Series, and the founding director of the African Poetry Book Fund. Dawes teaches in the Pacific MFA Program and is director of the biennial Calabash International Literary Festival. He is the author of Gomer's Song; translator of Go de Rass to Sleep; and editor of So Much Things To Say and Eight New-Generation African Poets. Chris Abani's prose includes The Secret History of Las Vegas, Song for Night, The Virgin of Flames, Becoming Abigail, GraceLand, and Masters of the Board. His poetry collections are Sanctificum, There Are No Names for Red, Feed Me the Sun, Hands Washing Water, Dog Woman, Daphne's Lot, and Kalakuta Republic. He holds a BA in English, an MA in gender and culture, an MA in English, and a PhD in literature and creative writing. He is the recipient of a PEN USA Freedom-to-Write Award, a Prince Claus Award, a Lannan Literary Fellowship, a California Book Award, a Hurston/Wright Legacy Award, a PEN Beyond Margins Award, a PEN/Hemingway Award, and a Guggenheim Award. Born in Nigeria, he is currently Board of Trustees Professor of English at Northwestern University, in Chicago. He is the editor of Eight New-Generation African Poets.