Katie Mouse and the Christmas Door: A Santa Mouse Tale (Christmas Gift Edition) (Hardcover)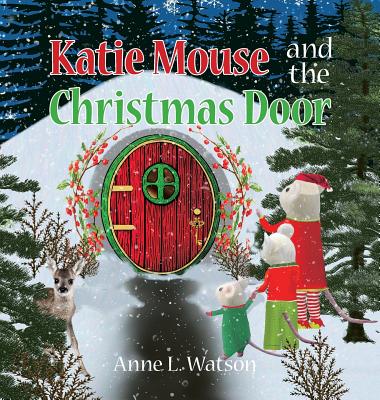 $30.00

Warehouse, In Stock | Usually Ships in 1-5 Days | New
Other Books in Series
This is book number 2 in the Katie Mouse series.
Description
---
Christmas is coming for Katie Mouse and the rest of the Mouse family Papa strings lights on the house and takes Katie and her little brother, Dylan, to get a tree, while Mama puts up decorations and bakes cookies for Santa Mouse. Now, if only Katie could decide what she really wants for Christmas, so she can let Santa Mouse know

On Christmas Eve, Santa Mouse and his mouse elves arrive to leave gifts for Katie and Dylan. But Alvar, the newest elf on the sleigh, wanders off to explore, and winds up meeting the Mouse children face to face. From the elf, they hear all about the North Pole and the magical Christmas Door, which shows you what you want and need the most.

Can Alvar help Katie discover her deepest Christmas wish? And can Katie help Alvar, when Santa Mouse accidentally leaves him behind?

For ages 4 to 9.

/////////////////////////////////////////////////

ABOUT ANNE AND MOUSE TOWN

In 2016, Anne L. Watson fell in love with felted mice by Bulgarian artist Diyana Stankova. Anne happened to be working on a housekeeping almanac, so she started photographing the mice, posing them in scenes with miniatures in dollhouses, to illustrate the book. Soon she was writing little stories about the mouse family, while learning to use Photoshop to manipulate their poses and composite their props and settings in a creative blend of toys, other photos, and purchased and free art.

As Anne added more mice and other felted animals from Diyana and other artists, Mouse Town began to take shape. As might be expected, these adorable but pushy critters eventually demanded their own books, and Anne obliged with the Katie Mouse series.

Besides her children's books, Anne writes literary novels and how-to books for grown-ups, on such subjects as housekeeping, soapmaking, and baking with cookie molds. She lives in Bellingham, Washington, with her husband and fellow author, Aaron Shepard, and a growing family of critters. Visit her at www.annelwatson.com.

/////////////////////////////////////////////////

SAMPLE

"What's the Christmas Door?" Katie asked with new interest.

Alvar's eyes shone even brighter. "When the Christmas Door opens, it shows you what you want and need the most."

"That sounds wonderful " said Katie. "I can never decide that for myself." She sighed. "But I guess I could never go there."

Alvar thought a moment. "You don't really need to. I could show it to both of you, right here."

"Really?" said Katie, all excited.

"Just close your eyes and look for a red and green door at the end of a path. I'll help you."

Katie and Dylan closed their eyes. Snow swirled all around them, thick and soft. As it settled, they found themselves on a misty forest path with Alvar.

The mist grew thinner, and out of it, a door slowly appeared before them -- red and green with gold trimmings, brighter than their Christmas tree. A gold key hung from the doorknob.

"What do we do now?" said Katie.

"Just touch the key, and the door will open," said Alvar. "Who's first?"