Animal Camp: Reflections on a Decade of Love, Hope, and Veganism at Catskill Animal Sanctuary (Paperback)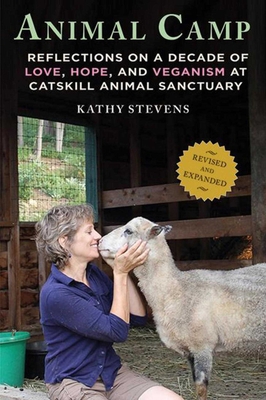 List Price: $16.95
Our Price: $14.41
(Save: $2.54 15%)
Description
---
Kathy Stevens has an abounding love of animals that is the foundation of compassion upon which the Catskill Animal Sanctuary is built. Her tales of the rescued animals who inhabit her haven are moving, provocative, and by turns hilarious and devastating.

Meet Barbie, the broiler hen found in Brooklyn hiding under a blue Honda, who falls for Rambo, a ram with an uncanny sense of what others need. Here's Norma Jean, the turkey rescued from a "turkey bowl" just before Thanksgiving. Say hello to Noah, a twenty-one-year-old stallion, starved and locked in a dark stall for his entire life until he came to the safety and plenty of Catskill Animal Sanctuary.

More than 2,000 animals have lived and loved at Catskill Animal Sanctuary since its founding in 2003. And while the love Kathy Stevens and her devoted staff have for them is stunning, more remarkable is who the animals become at this place where kindness rules. Originally printed in 2010, this edition has been revised and expanded to allow fans of the Catskill Animal Sanctuary to catch up with Barbie, Rambo, Norma Jean, and the rest of the gang residing on Stevens's farm.
About the Author
---
Kathy Stevens in 2001, co-founded Catskill Animal Sanctuary, where her love of teaching, her belief that education has the power to transform, and her love of animals come together. Kathy is the author of Where the Blind Horse Sings and Animal Camp, two critically and popularly-acclaimed books about the work of Catskill, and a frequent contributor to books, podcasts, and articles on animal sentience, animal rights, and veganism. She takes her message of kindness to all beings and the urgent imperative of veganism to conferences and colleges in the US and Canada. Kathy lives on the grounds of Catskill in Saugerties, New York, with her dogs Chumbley and Scout, and kisses many critters every day.