Emergency Response Guidebook: A Guidebook for First Responders during the Initial Phase of a Dangerous Goods/Hazardous Materials Transportation Incident (Paperback)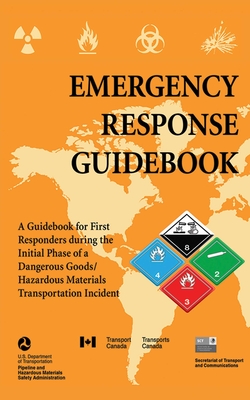 List Price: $12.95
Our Price: $11.01
(Save: $1.94 15%)
Description
---
Does the identification number 60 indicate a toxic substance or a flammable solid, in the molten state at an elevated temperature? Does the identification number 1035 indicate ethane or butane? What is the difference between natural gas transmission pipelines and natural gas distribution pipelines? If you came upon an overturned truck on the highway that was leaking, would you be able to identify if it was hazardous and know what steps to take?   
Questions like these and more are answered in the Emergency Response Guidebook. Learn how to identify symbols for and vehicles carrying toxic, flammable, explosive, radioactive, or otherwise harmful substances and how to respond once an incident involving those substances has been identified. Always be prepared in situations that are unfamiliar and dangerous and know how to rectify them. Keeping this guide around at all times will ensure that, if you were to come upon a transportation situation involving hazardous substances or dangerous goods, you will be able to help keep others and yourself out of danger. With color-coded pages for quick and easy reference, this is the official manual used by first responders in the United States and Canada for transportation incidents involving dangerous goods or hazardous materials.
About the Author
---
The United States Department of Transportation (USDOT or DOT) is a federal Cabinet department of the U.S. government concerned with transportation. Its mission if to "Serve the United States by ensuring a fast, safe, efficient, accessible, and convenient transportation system that meets our vital interests and enhances the quality of life of the American people, today and into the future."