Keep This Toss That - Updated and Expanded: The Practical Guide to Tidying Up (Paperback)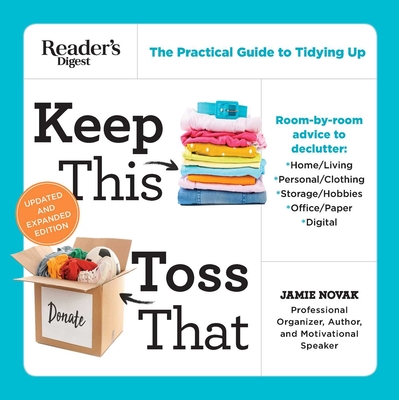 List Price: $19.99
Our Price: $18.99
(Save: $1.00 5%)
Description
---
A quick practical guide to uncluttering to save time, money, space, and sanity.

Are you afraid to open your kitchen cabinet because you know food storage containers are going to come pouring out like an erupting volcano? Do you spend hours searching for the email you need? Will you regret it tomorrow if you give away all your old concert T-shirts? And how many tote bags will you really use?

Keep This, Toss That answers all of these questions and much more. Featuring dozens of illustrated Keep/Toss Checklists, the book shows you exactly what you need—and what you can safely toss, regret-free (even if you're a sentimentalist or saver)—in every room of your house, for each hobby or activity, and even online. It also includes:
• quick tips on clever storage solutions
• tools and utensils that can do double duty
• advice on how to customize the lists to suit your house, your family, and your lifestyle



Room-by-room advice to declutter:

*Home/Living

*Personal/Clothing

*Storage/Hobbies

*Office/Paper

*Digital

Now updated and expanded with information about the special clutter challenges of modern life, such as how to clean up digital files and what to do with the stuff your kids left behind when they moved out, Keep This, Toss That answers the one key question you need to get organized and live happily with just the stuff you love.
About the Author
---
With offices in New Jersey and California, Jamie Novak criss-crosses the country headlining events and giving organizational workshops to standing-room-only crowds. She shares her keep this, toss that tips on her weekly podcast and her advice has appeared in notable national magazines such as Better Homes and Gardens Secrets of Getting Organized, Woman's World, and Family Circle. Having appeared as a featured organizer on TV Jamie is known as a de-cluttering humorist, author, and motivational speaker. Visit www.JamieNovak.com for more information about Jamie.